News

Penguindrum Anime Inspires Manga Almost 2 Years Later

posted on by Egan Loo
---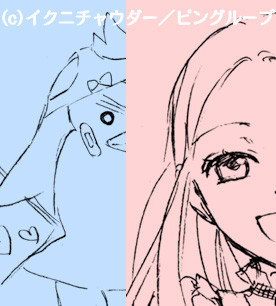 Manga creator Isuzu Shibata (Your captive) announced on Wednesday that she is drawing a manga adaptation of the Mawaru Penguindrum anime, nearly two years after the anime aired. The March issue of Gentosha's Monthly Comic Birz magazine, the home of Hetalia and Otome Yōkai Zakuro, also made the announcement on Wednesday.

Mawaru Penguindrum was the latest anime from director Kunihiko Ikuhara (Revolutionary Girl Utena, several Sailor Moon television series). Otome Yōkai Zakuro manga creator Lily Hoshino handled the original character designs in this 24-episode surreal fantasy which aired from July to December of 2011. Sentai announced last September that it licensed the anime for North America.
King Record's Starchild label revealed a penguinbear.com website via a randomly distributed postcard at last summer's Comic Market 82 event. The website updated on Wednesday with a photograph of the latest Comic Birz issue.
[Via Wataru Osakabe, 0takomu]
Images © kuni chowder, pengroup
---