News

The Wonderful 101 Slated for Wii U in August/September

posted on by Karen Ressler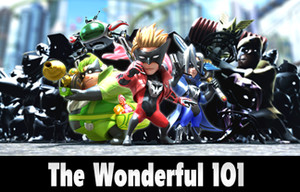 Nintendo announced on Friday that the upcoming Wii U game The Wonderful 101 will ship in Japan on August 24. It will then ship in North America on September 15.
Hideki Kamiya (Bayonetta) is directing the "mass-hero action" title at Platinum Games. In the story, aliens are invading the Earth, and a group of unlikely heroes must join forces and work together to stop the invasion, since the aliens are too powerful for the heroes to fight alone. Each hero can transform into powerful weapons to attack the aliens, or they can transform into other objects such as a bridge to help the team traverse environments. Players work to recruit citizens to join their hero team and to broaden the team's transformative powers.
[Via Hachima Kikō]
---