News

Digimon Fusion Slated for CW, Nickelodeon This Fall

posted on by Egan Loo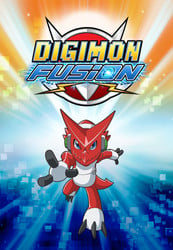 Saban Brands confirmed that Digimon Fusion, the English-dubbed version of the the sixth Digimon television anime series Digimon Xros Wars, will premiere on both the CW's Vortexx programming block and the Nickelodeon channel in the United States this fall. In addition, Bandai will launch the accompanying toys next spring.
Saban describes the story:
The all new Digimon Fusion series features Mikey, a human boy, who is transported into the digital world and must team up with his new "Digimon" or "Digital Monster" friends to battle the evil Bagra army before their realm is deleted once and for all. Luckily, Mikey is given the amazing ability to fuse two or more Digimon together to form new, more powerful Digimon hybrids, which creates endless battle possibilities. It's a new Digimon series for the Digital Age! 
Digimon Xros Wars premiered in Japan in 2010, and its follow-up Digimon Xros Wars: Toki o Kakeru Shōnen Hunter-tachi premiered in October 2011. Neither of these television series have aired in North America yet, but Crunchyroll streamed the first series and simulcast the second series as it aired in Japan.
Thanks to Ukiyaseed for the news tip
---