News

Crunchyroll Adds Divorce Chaser in English, No-Rin in French & German

posted on by Jennifer Sherman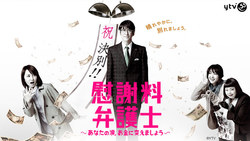 Media distribution service Crunchyroll announced on Friday that it will stream the Divorce Chaser (Isharyō Bengoshi ~Anata no Namida, Okane ni Kaemashou~) Japanese live-action television series with English subtitles. The company will stream the series on Saturdays starting this week at 1:00 a.m. EST for drama members in the United States, Canada, United Kingdom, Ireland, South Africa, Australia, New Zealand, Denmark, Finland, Netherlands, Norway, Sweden, and South America. Free users in those countries will be able to watch the episodes one week later. Crunchyroll describes the story as follows:
One half of the famous Japanese comedic duo – Cocorico – Naoki Tanaka plays our off-beat protagonist who is a masterfully talented lawyer, full of mystique and mystery. His whole business is predicated on the opportunity costs between men and women's unfortunate relationships.

His intention is never focused on using money to buy back their once lost love, but more from helping them achieve a fresh start on life and love. However the intertwined, complex relationships will test our talented lawyer as he litigates through these trouble and perhaps troubles of his own…
The series premiered in Japan on Thursday.

Crunchyroll also announced that it will "soon" stream the No-Rin television anime series with German and French subtitles. The anime adapts Shiratori Shirow and illustrator Kippu's No-Rin romantic comedy light novel series. Shintarō Asanuma (Love Lab, Muromi-san) stars as Kōsaku Hata, a student and idol otaku at Tamo Agricultural High School (Tamo Nōrin Kōkō, shortened to No-Rin). Yukari Tamura plays Ringo Kinoshita, a new transfer student who recently retired as the idol Yukatan.
The anime premiered in Japan on Friday. Funimation is also streaming the anime.
---