News

Kindaichi Case Files Gets 2 More Spinoff Manga

posted on by Egan Loo
Spinoff series about Kindaichi's mini-vacation launches in English on
Manga Box
next week
---

The official Twitter account for Kodansha's Magazine Special announced on Monday that the detective manga Kindaichi Shonen no Jikenbo (Kindaichi Case Files or The Files of Kindaichi) is getting a spinoff manga series in Magazine Special's June issue, which will ship in May. The manga is also getting a new spinoff series in Kodansha's Manga Box bilingual digital manga service on April 23.
According to the head of Magazine Special, Yūki Satō will draw the spinoff, which will focus on the detective character Akechi Kengo.
Seimaru Amagi, Fumiya Sato, and artist Awabako (Roman Sanjūsō) are launching the new spinoff manga in Manga Box, titled Kindaichi Case Files: The Mini-Vacation (Kindaichi Shōnen no Koryokō, pictured above right), on April 23. Manga Box describes the series as follows:
With the genius-level reasoning ability he inherited from his grandfather Kousuke Kindaichi, Hajime Kindaichi has solved a great number of very difficult cases. But he is just a regular high school student. Though he wants to get closer to his childhood friend Miyuki, he can't manage to make a move on her because no matter where they go, a terrible crime always occurs! Kindaichi hardens his resolve and invites her on a one-night mini-vacation! "This time it'll work for sure!" he says to himself. As goes without saying, this manga is a comedy spinoff of the popular work Kindaichi Case Files!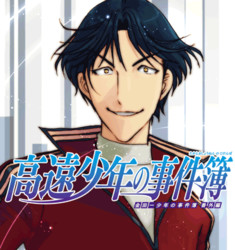 Another spinoff with a story by Seimaru Amagi and art by Fumiya Sato titled Takatō Shōnen no Jikenbo (Kindaichi Case Files: Takato's Side, pictured at left) just finished its run in Manga Box last week. The manga is getting a physical release in Japan on May 9.
A new anime adaptation of Seimaru Amagi and Fumiya Sato's original The File of Young Kindaichi Returns manga premiered earlier this month. Crunchyroll is streaming the show outside of Japan as it airs.
---