×
remind me tomorrow
remind me next week
never remind me
Subscribe to the ANN Newsletter • Wake up every Sunday to a curated list of ANN's most interesting posts of the week.
read more
News

Tales of Zestiria's Alisha DLC Previewed in Video

posted on
DLC is epilogue to main story, free until February 28
---
Bandai Namco Games began streaming a promotional video on Wednesday for the downloadable content for its Tales of Zestiria PlayStation 3 game. The DLC is titled "Alisha After Episode -Hitomi ni Utsurumono-" (Alisha After Episode -What Reflects in Her Eyes-), and became available on the Japanese PLAYSTATION Network Store on Thursday.
Narrator: This is the after-story to Tales of Zestiria... Alisha After Episode -What Reflects in Her Eyes-
Alisha: I was told... That there's no Fon Master anymore by someone.
Narrator: Alisha, the girl who chose to separate from her friends and fulfill her own mission.
Text: Alisha, who moves down the path she chose as a princess, as a politician.
Narrator: The story of reunion told from her point of view as she fights, separated from Sorey and the others is written. Another version of Alisha not seen in the main game can be seen here. Alisha gains the resolve to once again fight as an ally to learn about the truth that has happened in the world. Will she be able to learn the truth on her new journey?
Rose: Alisha! You want to go?
Alisha: I'll go! That's a given!
Narrator: Alisha After Episode -What Reflects in Her Eyes-
The DLC was first revealed on January 27, and will eventually cost 1,300 yen (about US$11), but it will be free from February 12 to February 28 to celebrate the franchise 's 20th anniversary and the game having shipped 400,000 copies.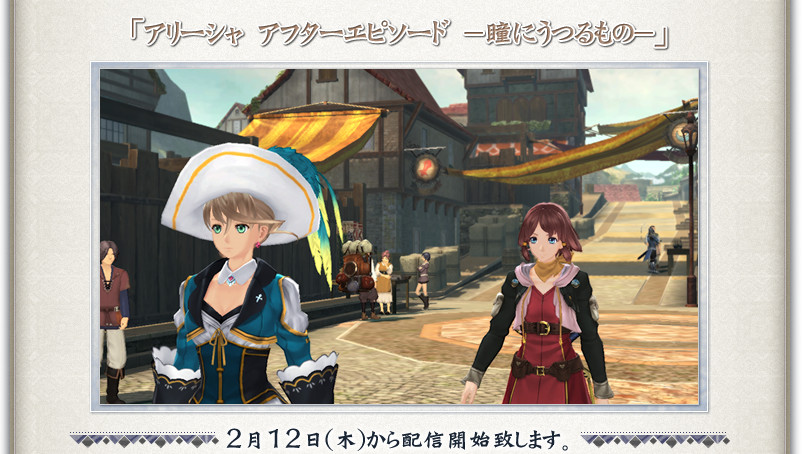 Alisha is not playable for much of the actual game before this DLC.
Namco Bandai Studio's Daigo Okumura designed the character Alisha, while Kousuke Fujishima designed Sorey. Mutsumi Inomata also returned to contribute character designs along with Minoru Iwamoto. The anime studio ufotable once again contributed animation for cut scenes and the opening for the game under studio founder and producer Hikaru Kondo. Motoi Sakuraba and Gō Shiina composed the soundtrack, and Superfly performed the game's theme song, "White Light."
The full battle system, titled "Fusonic Chain-LMBS" (with LMBS standing for "Linear Motion Battle System), renews the franchise's real-time battle system, and adds a gauge that lets characters freely battle as long as there is stock in it. By using the gauge, effects such as healing and blowing away the enemy are usable. The game also includes a new battle feature called "Kamui" that allows for a human and a heavenly being to fuse. In the game, Sorey is able to fuse with Heavenly Beings such as Lailah, changing his form and allowing him to use Lailah's attributes to attack.
The game shipped on January 22 in Japan. Pre-orders of the game included a product code to download a "Limited Premium Hidden Artes," as well as one of four premium rubber straps designed to look like Sorey, Mikleo, Alisha, and Edna. The game sells for the suggested retail price of 8,070 yen (about US$67).
---