News

New Sailor Moon Musical Unveils Cast for All 10 Guardians

posted on by Egan Loo
Former Takarazuka actresses & Prizmmy idol Karin play Uranus, Neptune, Saturn
---
The third new Sailor Moon musical unveiled the new cast members who will play the Outer Solar System Guardians (Gaibu Taiyo-kei Senshi), thus completing the cast for all 10 Guardians in this summer's production. The musical, titled Bishōjo Senshi Sailor Moon -Un Nouveau Voyage- (Pretty Guardian Sailor Moon: A New Voyage), will also add the members of the Death Busters group — including Professor Tomoe, Kaolinite, Mistress 9, Witches 5, and more — to the cast.

The new cast members are:
Former Takarazuka Revue male role actress Shū Shiotsuki as Sailor Uranus
Former Takarazuka Revue female role actress Sayaka Fujioka as Sailor Neptune
Prizmmy☆ (Pretty Rhythm) idol group member Karin Takahashi as Sailor Saturn
Yūki Kaon and Kei Ōgi, two more former Takarazuka Revue members who played male roles, are also starring in the play. Actress Yūga Yamato will reprise her role as Mamoru Chiba/Tuxedo Mask — thus the new Sailor Moon musical will have five former Takarazuka actresses.


Satomi Okubo (Sailor Moon), Kanon Nanaki (Sailor Mars), Yu Takahashi (Sailor Jupiter), and Shiori Sakata (Sailor Venus) debuted as their roles in 2013's Bishojo Senshi Sailor Moon -La Reconquista- musical. Momoyo Koyama replaced Miyabi Matsuura in 2014's Bishojo Senshi Sailor Moon -Petite Étrangère- musical as Sailor Mercury.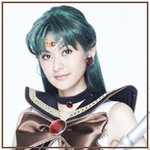 Kokoro Kuge and Airi Kanda will return from last year's Petite Étrangère musical to play Chibi-Usa/Sailor Chibi Moon, and Mikako Ishii will also return to play Setsuna Meiō/Sailor Pluto. The other cast members include Ayaka Ida, Saya Chinen, Yui Hasegawa, Momoko Sada, Maana, Ayumi Nakaoka, Rina Tsutsumi, Nozomi Hayashi, and Rio Taniguchi.
The five main actresses will graduate from the cast after Bishōjo Senshi Sailor Moon -Un Nouveau Voyage- finishes its run.

Bishojo Senshi Sailor Moon -Un Nouveau Voyage- will run between September 18 and 27 at the AiiA 2.5 Theater Tokyo venue, and then from October 2 to 4 at the Sankei Hall Breeze theater in Osaka. Readers of Kodansha's Nakayoshi magazine can purchase tickets in advance, and normal tickets will be available for purchase beginning on July 26 at 10 a.m. JST. S seat tickets will cost 7,500 yen (about US$62), while A seat tickets will retail for 5,800 yen (about US$48). Those who subscribe to the official email magazine were also able to purchase tickets starting on May 21.
The five main cast members will appear on the Bandai Stage at the Tokyo Toy Show on June 20.

Source: Comic Natalie
---