News

PriPara Film Opens at #9, Earns 45 Million Yen

posted on by Rafael Antonio Pineda
---

The PriPara Mi~nna no Akogare Let's Go PriPari anime film opened last Saturday on 116 screens, ranking #9 at the Japanese box office. It sold 37,082 tickets and earned 44,686,200 yen (about US$394,199) in its opening weekend.

The Gekijōban Ultraman X! Warera no Ultraman film also opened this Saturday on 50 screens, ranking #10.

Eiga Doraemon Shin Nobita no Nihon Tanjō (Doraemon the Movie: Nobita and the Birth of Japan 2016), the 36th anime film in the Doraemon franchise, remained at #1 in its second week on 363 screens, selling 415,173 tickets and earning 485,423,800 yen (about US$4.27 million). The film has sold a cumulative 1.07 million tickets.
The new film remakes the 1989 Doraemon: Nobita at the Birth of Japan film. The earlier film sold 4.20 million tickets, which is the franchise record (excluding the CG film Stand By Me Doraemon).

The live-action film of Makino's shōjo manga Kurosaki-kun no Iinari ni Nante Naranai dropped from #2 to #5 in its third week on 160 screens.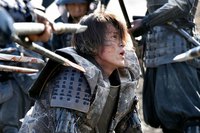 The live-action film of Ayumi Ishii's Nobunaga Concerto historical manga dropped from #5 to #7 in its eighth weekend on 324 screens. Its box office gross has topped 4 billion yen (US$35 million).

The Digimon Adventure tri. Ketsui anime ranked #11 in its opening weekend. The film opened last Saturday.
Source: Eiga.com, Movie Walker
---