News

Schoolgirl & Motorcycle Anime Bakuon!! Previews Theme Songs in Videos

posted on by Egan Loo
Sayaka Sasaki
sings opening, while 4 lead voice actresses sing ending in April anime
---
The official website for the television anime of Mimana Orimoto's Bakuon!! manga began streaming a television commercial on Monday. The commercial previews the opening theme song "FEEL×ALIVE" by Sayaka Sasaki.
Hane: Vroom vroom! I'm Hane Sakura, and I was invited by my classmate Onsa to join the Motorbike Club! Bakuon!! Engines starting on April 4! Let's go as fast as we want!
The website is streaming another video to preview both "FEEL×ALIVE" and the ending theme "Buon, buon, Ride On!" by the four main cast members.
The website also revealed that Bakuon!! tie-in goods and events will offer Bakuon!! Seal!! stickers for fans to collect. The original manga will begin bundling the first six stickers in mid-March. People who attend the anime's stage events at AnimeJapan 2016 later this month will receive sticker No. 12. Finally, attendees of the April 2 preview screening will receive sticker No. 13.



The story revolves around high school girls who discover the appeal of motorcycles. Hane Sakura is a high school student who looks a little bit like an airhead. On the way to her all-female high school one day, she is worn-out climbing a hilly road with a bicycle, but she sees a girl named Onsa Amano who is riding a motorcycle. Sakura immediately becomes interested in motorcycles, and she and Onsa join the motorcycle club at the school. Then, Sakura sets out to get her license.
The cast includes:
Reina Ueda as protagonist Hane Sakura (her bike is a Honda CB400 SF)


Nao Tōyama as Rin Suzunoki (her bike is a Suzuki GSX400S Katana)


Yumi Uchiyama as Onsa Amano (her bike is a Yamaha SEROW225W)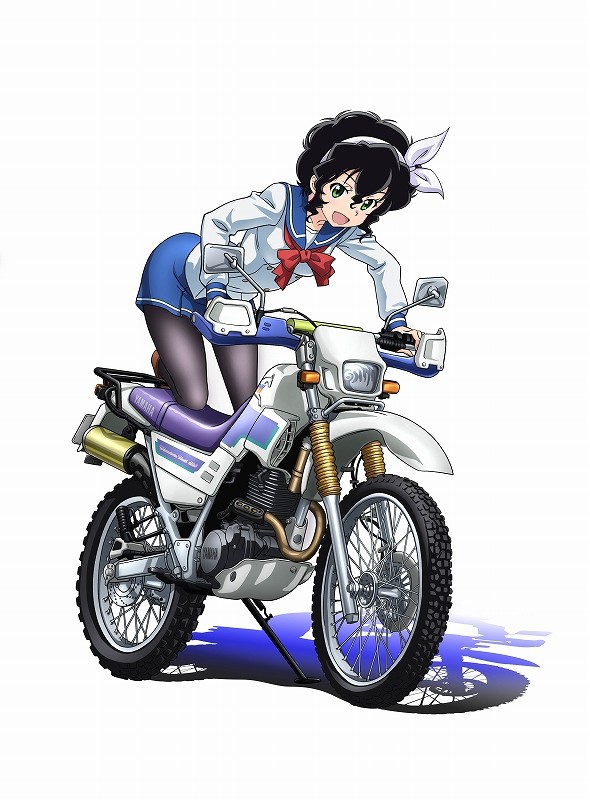 Rikako Yamaguchi as Hijiri Minowa (her bike is a Ducati 750SS)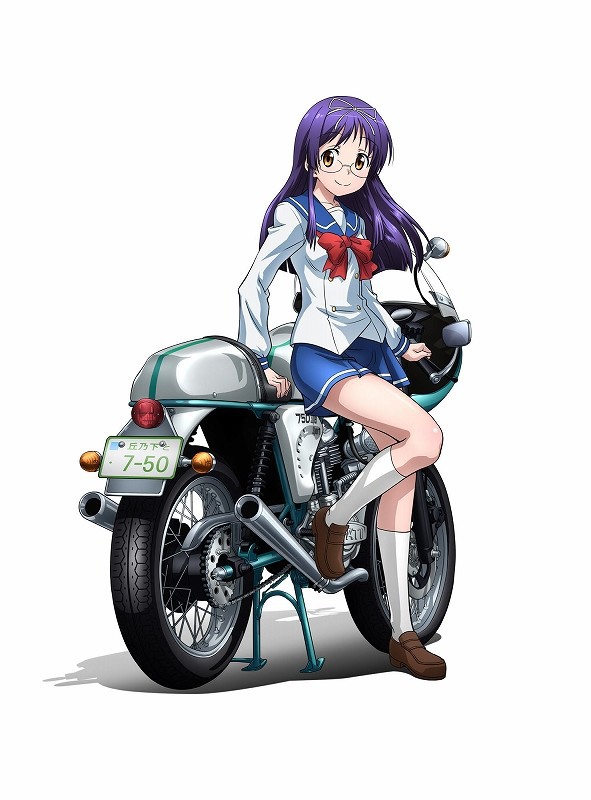 The series will premiere on the Tokyo MX, Sun TV, and BS11 channels on April 4 at 24:00 (effectively, April 5 at midnight), and it will also run on Animax. Amazon Prime Video will stream the first episode one day earlier on April 3 at 24:00 (effectively, April 4 at midnight), before shifting to its regular schedule of streaming one half-hour after the television premiere for the remaining episodes.

Bakuon!! will have stage events at AnimeJapan on both March 26 and March 27, and the characters' motorcycles will be on display throughout the convention. Uchiyama and Yamaguchi will appear on the first day's event, and all four main voice actresses will appear at the second day's event. Ueda and former real-life racer Shinya Nakano will also appear at the 43rd Tokyo Motorcycle Show on March 27. (Both AnimeJapan and the Tokyo Motorcycle Show are going to be held at Tokyo Big Sight.) The four main voice actresses appear at a preview screening on April 2 in Tachikawa Cinema City's Cinema Two b studio, and Sayaka Sasaki will perform the opening theme live there.
Junji Nishimura (Simoun, Dog Days, GLASSLIP) is directing the anime at TMS Entertainment, and Kurasumi Sunayama (Gunslinger Girl, Monster, Romeo × Juliet) is in charge of the series scripts. Isao Sugimoto (Sketchbook ~full color'S~, Girls und Panzer, Moonlight Mile) is designing the characters, while Manabu Nii (Samurai Flamenco, Karneval) is credited for sub-character design. Yoshio Mizumura (Lupin III: Seven Days Rhapsody, Yowamushi Pedal) and Yasuhiro Moriki (Saber Rider and the Star Sheriffs, Banner of the Stars, Silent Möbius: The Motion Picture) are credited for design works. Shunichiro Yoshihara (Yowamushi Pedal, JoJo's Bizarre Adventure, Garakowa -Restore the World-) is in charge of art direction. Takeshi Takadera (Initial D: Second Stage, Yowamushi Pedal) is handling sound direction, while Ryosuke Nakanishi (High School DxD, Sakura Trick, Love Stage!!) is composing the music.
The single CD for the opening theme will ship on April 27. The single CD for the ending theme will ship on May 11.
Source: Comic Natalie
---