News

Attack on Titan 2 Game's Video Reveals March 15 Release Date in Japan

posted on by Jennifer Sherman
PS4/Xbox One/Switch/PC game ships in West on March 20
---
A livestream for Koei Tecmo Games' Attack on Titan 2 game revealed that the game will ship in Japan on March 15. The video also includes more than 20 minutes of gameplay footage and reveals that Annie Leonhart, Reiner Braun, and Bertholdt Hoover will be playable characters for the first time in the game. The game's producer Hisashi Koinuma, director Hideo Suzuki, and voice actresses Shiori Mikami (voice of Christa Lenz) and Saki Fujita (voice of Ymir) appear in the video.
The game will ship for PlayStation 4, PlayStation Vita, Nintendo Switch, and PC via Steam in Japan on March 15. The regular physical and digital editions of the game will cost 7,800 yen (about US$69) for PS4, Switch, and PC, and 6,800 yen (US$60) for PS Vita. The digital-only Deluxe Edition will bundle 20 additional costumes and cost 12,800 yen (US$114) for PS4 and Switch, and 11,800 yen (US$105) for PS Vita.
The Treasure Box limited edition will bundle a soundtrack, eight character pins, and two A4-size posters. The limited-edition version will cost 14,800 yen (US$131) for PS4 and Switch, and 13,800 (US$122) for PS Vita. People who purchase the first copies of the game will be able to unlock informal clothes for Eren and Levi early. People who pre-order a digital version of the game will be able to unlock informal clothes for Christa and Ymir early.
Koei Tecmo Europe also began streaming a story trailer for the game. The game will ship for PlayStation 4, Xbox One, Nintendo Switch, and PC via Steam in North America and Europe on March 20.
In addition, the game's official website revealed five more playable characters on Thursday. The newly announced characters are Thomas Wagner, Mina Carolina, Nile Dawk, Marlo Freudenberg, and Hitch Dreyse.
Previously announced playable characters include Eren Jaeger, Mikasa Ackerman, Armin Arlert, Levi, Miche Zacharias, Nanaba, Gelgar, Ymir, Christa Lenz, Oluo Bozado, Eld Jinn, Gunther Schultz, Petra Ral, Moblit Berner, Hange, Erwin, Hannes, Ian, Rico, and Mitabi. Players will also be able to create a Custom Scout.
The game's story will cover through the events of the anime's second season. The game will feature improved omni-directional mobility gear, enhanced Titan movements, and more advanced role-playing game elements. The game will feature a Town Life segment that allows players to strengthen their relationships with other characters in order to uncover their stories. The game will also feature a new Monocular that allow players to view positions from a distance.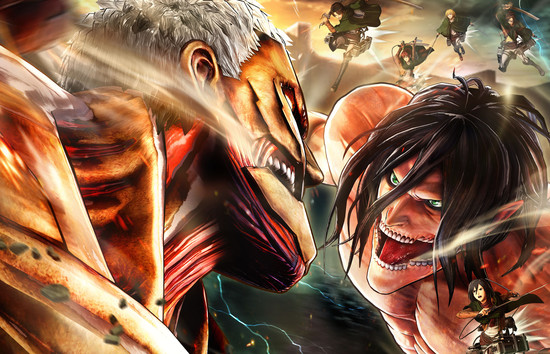 KOEI Tecmo Games and its Omega Force subsidiary are developing the game. Hideo Suzuki is directing, and Hisashi Koinuma is the producer. KOEI Tecmo Games America described the game as follows: "Players will once again don the renowned Omni-Directional Maneuver Gear as they fight and repel the fearsome Titans that threaten humanity, to restore peace within the walls." The sequel game will feature new gameplay mechanics.
Koei Tecmo Games and Omega Force (Warriors/Musou franchise) released the first game in Japan in February 2016 for the PlayStation 4, PlayStation 3, and PlayStation Vita. The companies released the game for those three consoles and for the Xbox One and PC via Steam in Europe (under the title A.O.T: Wings of Freedom) and in the Americas in August 2016.
Spike Chunsoft developed a separate Shingeki no Kyojin 2 ~Mirai no Zahyō~ (Attack on Titan 2: Future Coordinates) game for Nintendo 3DS. The game shipped in Japan on November 30 as a sequel to the Attack on Titan: Humanity in Chains game.
[Via Hachima Kikō, Gematsu]
---