News

Stage Pluto Starts at London's Barbican Next Thursday

posted on by Andrew Osmond
Tickets still available for stage version of Naoko Urasawa manga from February 8 to 11
---

As of writing, tickets are still available for all five performances of the stage version of Naoki Urasawa's Pluto manga, involving actors, dancers and puppet creations. It will run at London's Barbican Centre from Thursday February 8 to Sunday February 11, with details and booking links here. The performance are at 7.15 p.m. on the Thursday and Friday; 1.30 p.m. and 7.15 p.m. on the Saturday; and 3 p.m. on the Sunday.
The performance will be in Japanese with English subtitles, and will last approximately three hours including an interval. The Barbican website describes the performance:
In a genre-defying show honouring the Japanese art form of manga, sensational visual effects, impactful storytelling and performances of physical grace enliven this iconic Astro Boy tale.

Depicting a universe where people and robots both coexist and find themselves in conflict, Pluto engages audiences with far-reaching themes that ask what it means to be human. Starring skilled Japanese actors alongside dancers and elaborate puppet creations, the arresting staging is characterised by scale, energy and graphics faithful to the original comic book.

A striking 2003 reinterpretation of Astro Boy for the modern age, by Naoki Urasawa and Takashi Nagasaki, Pluto is directed by Belgian choreographer Sidi Larbi Cherkaoui in his first full-length theatre production.
The play previously ran at the Bunkamura Theater Cocoon in Tokyo this January. As well as London, its international run includes venues in the Netherlands and Belgium before returning to Japan in Osaka's Morinomiya Piloti Hall in late March 2018.

The cast includes (clockwise from upper left):
Shunsuke Daito as Gesicht
Mirai Moriyama (the lead Yokiyo in the live-action film and TV versions of the manga Moteki) as Atom
Tao Tsuchiya (who voiced the ten year-old Satoru in the Erased anime) as Uran/Helena
Mitsuru Fukikoshi as Abullah
Akira Emoto as Dr. Tenma
Kazutoyo Yoshimi as Dr. Ochanomizu
Sidi Larbi Cherkaoui previously directed a stage interpretation of Osamu Tezuka's work called TeZuKa, which premiered at the Sadler's Well theatre in September 2011. The Barbican website includes a talk about the new production between Cherkaoui and Anime Encyclopaedia co-author Helen McCarthy.
There is also an interview in the January 2018 edition (Issue 70) of the print magazine MyM. In this, Cherkaoui says of the new play: 'Sometimes the characters are literally framed as if they were in a manga and are speaking from one huge frame to another.' The puppet effects in the play were influenced by the Japanese tradition called bunraku. 'I wanted to use that and reinvent it into a futuristic kind of puppetry, so suddenly the dancers become manipulators of the actors as puppets, but also use real puppets as characters.'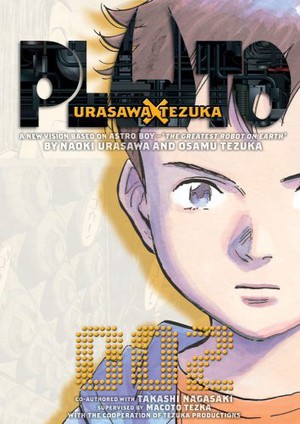 The Pluto manga is Urasawa and producer Takashi Nagasaki's seinen drama re-imagining of the world depicted in Osamu Tezuka's manga Astro Boy. The series ran in Shogakukan's Big Comic Original magazine from 2003 to 2009, and its eight compiled book volumes have sold more than 8.5 million copies. The manga has been translated and published in 20 countries including France and the United States. Viz Media, which released the manga in North America, describes the story:
In a distant future where sentient humanoid robots pass for human, someone or something is out to destroy the seven great robots of the world. Europol's top detective Gesicht is assigned to investigate these mysterious robot serial murders - the only catch is that he himself is one of the seven targets.
An anime adaptation of the manga is in the works. Universal Pictures and Illumination Entertainment acquired the film rights from Tezuka Productions for a planned live-action/computer-graphics (CG) hybrid film of Pluto in 2010.
---