News

Gonzo Reveals Calamity of the Zombie Girl Net Anime With July Premiere

posted on by Rafael Antonio Pineda
Anime originally announced in 2012
---
GONZO opened a website on Friday for Calamity of the Zombie Girl, the anime adaptation of Ryō Ikehata's Aru Zombie Shōjo no Sainan light novel series. The site is streaming a promotional video in English and Japanese, and also revealed the anime's cast, staff, and visual.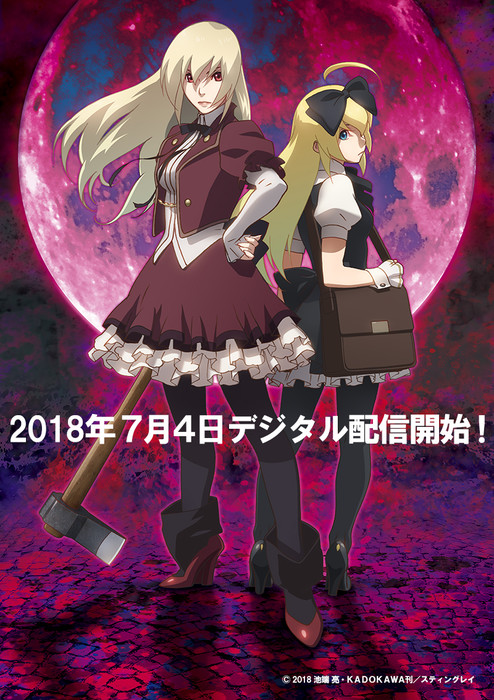 The net anime will debut streaming on July 4.
The anime's cast includes:
Hideaki Iwami is directing the anime at GONZO and Stingray, and Katsuya Iwamoto is credited for planning. Kenichi Kanemaki (Prétear, Rumbling Hearts, Sayonara, Zetsubou-Sensei) is penning the script. Junichi Takaoka (Gravion, Moyashimon) is the character designer, and is also the chief animation director. Takeshi Kusaka, Yuji Hosogoe, and Norimoto Tokura are also credited as animation directors.
Other staff members include:

Kadokawa originally revealed the anime adaptation in June 2012, and streamed a promotional video in July 2012, but hasn't revealed any new information about the series until now.
The story revolves around a beautiful girl named Euphrosyne who is regretfully a zombie. Euphrosyne wakes up in an underground archive of a university, where a maid named Alma tells her, "Madam, kill the students and retrieve the 'Secret Stone.'"
Kadokawa's Sneaker Bunko imprint published the first two volumes of the light novel series in June 2012 with Hagane Tsurugi's illustrations. Kadokawa published two more volumes in November 2012 under the title Aru Zombie Shōjo no Nyūgaku (A Certain Zombie Girl Enters University).
The novels editor also revealed in 2012 that tentative plans were in the works for a live-action adaptation of the series.
Ikehata also wrote Sneaker Bunko's novel adaptation of the Blood+ anime series.
[Via Yaraon!]
---