News

Mirai Will Be Released Both Subbed and Dubbed in November

posted on by Andrew Osmond
Subtitled screenings of
Mamoru Hosoda
's new film on November 2, dubbed screenings follow on November 4
---
Anime Limited has now confimed that it will release Mamoru Hosoda's latest film, Mirai no Mirai (Mirai From the Future), in both English-dubbed and subtitled form. According to the announcement, the film will open 'on 100 screens' in UK and Ireland cinemas. There will be subtitled screenings on November 2, followed by English-dubbed screenings on November 4. (The film opened in Japan on July 20.)
A website for the film was launched here.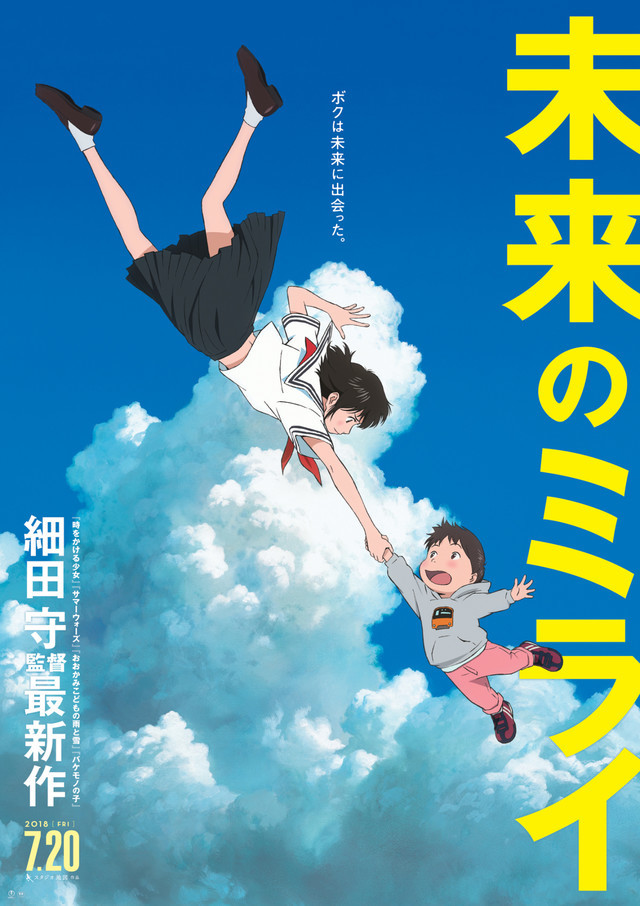 The film's story centers around a family living in a small house in an obscure corner of a certain city — in particular, the family's spoiled four-year-old boy Kun-chan. When Kun-chan gets a little sister named Mirai, he feels that his new sister stole his parents' love from him, and is overwhelmed by many experiences he undergoes for the first time in his life. In the midst of it all, he meets an older version of Mirai, who has come from the future.
Hosoda directed the film at his Studio Chizu, and is also credited as scriptwriter and for the original story. Hiroyuki Aoyama – the animation director on earlier Hosoda films The Girl Who Leapt Through Time, Summer Wars, and The Boy and The Beast – and Ayako Hata – a key animator on the same films, returned for this new film as animation directors. Yohei Takamatsu and Takashi Omori, who Hosoda had previously worked with on The Boy and The Beast, also returned as art directors for the film. Producer Yuichiro Saito also returned from Hosoda's earlier films.
In a interview with Variety in May, Hosoda discussed the themes of the new film. The new film's theme is "siblings," continuing on from the themes of "youth" in The Girl Who Leapt Through Time, "family" in Summer Wars, "motherhood" in Wolf Children, and "fatherhood" in The Boy and The Beast.
Hosoda said that the new film is inspired by his own experience as a father, noting that "Mirai" (which can be translated as "future") is the name of both the sister character in the film, as well as his own daughter. He said that the conflict in the film echoes his real-life experience of his eldest child feeling that his new sibling "stole her parents, which made her ferociously jealous." He acknowledged that the new film is closer to the human drama of The Girl Who Leapt Through Time and Wolf Children than the action stories of Summer Wars and The Boy and The Beast.
Hosoda states that he wrote the screenplay alone, but listened to "opinions and the experiences of the producers."
---