Japanese Rock Band MUCC's Live Streaming of Budokan Live Available Through Paid Service
MAVERICK DC GROUP (CEO: Masahiro Oishi) and Ustream Asia Inc. ('Ustream Asia' hereafter / CEO: Tomotaka Nakagawa) are supporting a new project of Sync Music Japan, organized to expand Japanese music market to a global scale, to provide paid service for the live streaming of MUCC's live performance in Nippon Budokan on 5/22 (Sun) to the whole world.
MUCC has been on overseas tours with as many lives as 50 in total in north Americas and 60 lives in total in European countries. MUCC's live performance for this paid service will be the very last live on the second day of the 2-day lives at Budokan after their Euro Tour and Asia Tour, which will reflect on MUCC's band history. We expect and hope that many fans around the world will join in to watch this historical live. The live streaming of "MUCC history GIGS 97~11" will offer a chance to all the fans around the world to experience an unusual set list with rare performances, single numbers and of course, the signature numbers for lives.
The access fee for this paid service has been set to 690 yen as a pun from the band name MUCC (pronounced 'Mukku' in Japanese which can be described as '69' in numbers, thus has been used as a nickname for MUCC).
The details for the paid service of live steaming are as follows:
■Title:MUCC history GIGS 97~11
■Date:5/22/2011(Sun)
■Venue:Nippon Budokan
■Time: Start 15:00
15:00 (Tokyo)
10:00 (Moscow)
8:00 (Paris)
7:00 (London)
4:00 (Sao Paulo)
2:00 (New York)
23:00 (Los Angeles)
Access fee :690 yen (tax in)
Purchase for access available from 5/16 (Mon) 12:00 to the end of the live on 5/22 (Sun)
Hashtag: #mucc
Channel URL:
http://www.ustream.tv/channel/mucc-history-gigs-97-11
Featured Artist: MUCC
Ustream Asia, in close cooperation with Sync Music Japan, will continue to support introducing Japanese artists to the whole world.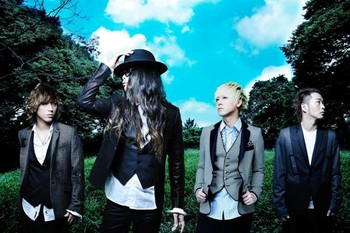 ---
discuss this in the forum (1 post)
|