AM2 Announces Ms. Tara Strong- The Voice of Bubbles (Powerpuff Girls), Hello Kitty, Raven (Teen Titans), Harley Quinn (Arkham City), Twilight Sparkle (My Little Pony), And More- As An Officially Guest of Honor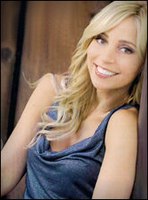 Highly Acclaimed Animation and Anime Voice Actress Comes This Summer's Most Anticipated Animation, Music and Manga Convention in Southern California
LOS ANGELES, Calif. (May 10, 2012) – Ms. Tara Strong is announced as an official Guest of Honor to appear at this year's highly anticipated summer event, AM2, June 15-17, 2012 that will be held in sunny Southern California (Anaheim, California). Ms. Strong's best known voices include that of Hello Kitty, Bubbles (POWERPUFF GIRLS), Raven (TEEN TITANS), Harley Quinn (ARKHAM CITY), Twilight Sparkle (MY LITTLE PONY: Friendship is Magic). More info and convention registration can be found at www.am2con.org
Ms. Strong's activities at AM2 will include panels, autograph sessions and special meet & greets with Passport holders as well as Passport holders within the official Hotel Room Block (Anaheim Hilton).
"With such an amazing career with such major highlights in the anime and animation world, AM2 attendees will be in for a real treat this year," states Convention Representative Chase Wang, "Get your Passports today and join the fun!"
Tara Strong began her professional acting career at the age of thirteen, performing in Toronto's Yiddish Theater. She booked several tv and film roles and her first animated series, voicing the title role of "HELLO KITTY". By the age of sixteen, she had a lead in a sit-com, and voiced more than twenty animated series, as well as several musical theater and TV and film roles. She moved to Los Angeles in 1994, and worked on PARTY OF FIVE, NATIONAL LAMPOON'S SENIOR TRIP, TOUCHED BY AN ANGEL, SABRINA THE TEENAGE WITCH, and several other guest roles. She has enjoyed a very successful voice over career including, "BUBBLES" in "THE POWER PUFF GIRLS", "TIMMY" on "THE FAIRLY ODD PARENTS", "DIL" in "RUGRATS", "RAVEN" on "TEEN TITANS" , "BATGIRL", "CHOWDER", "TRANSFORMERS", "DRAWN TOGETHER", "BEN 10", "MELODY" in the sequel to "THE LITTLE MERMAID", and many more. She was nominated for an EMMY for her role in "JAKERS". She can currently be seen on camera as the teacher, "MISS COLLINS", on NICKELODEON'S hit show, "BIG TIME RUSH". Tara is extremely excited to step into the fabulous shoes of "HARLEY QUINN" in the hit game "ARKHAM CITY" and wouldn't feel right about ending her bio without giving love to all her bronies from "TWILIGHT SPARKLE" on the hit show, "MY LITTLE PONY", she is also excited for the highly anticipated new FOX series, "NAPOLEON DYNAMITE" where she plays more characters than she can remember.
Ms. Tara Strong joins current AM2 Official Guests of Honor include Putumayo, Andrea Libman, Quinton Flynn, Sixh. and Toshihiro Kawamoto.
3 Day Passport Holders that also stay within the official hotel room block will be treated to a "private" panel/meet-and-greet with Guests of Honor during the convention—the official hotel is the Anaheim Hilton Hotel (AM2 guarantees the lowest hotel rates for the official hotel-any lower Anaheim Hilton room rates are honored as long as the attendee(s) are official Passport holders).
Please note that ALL Guest of Honor activities (i.e. panels, autographs, appearances, etc.) are ALL Passport preferred activities. There will also be a private Meet & Greet event for each Guest of Honor EXCLUSIVELY for Attendees that are 3 Day Passport Holders and Anaheim Hilton Room Block Attendees (room key proof is required).
Please note that ALL film premiere events (i.e. ACE ATTORNEY, KAIBUTSU-KUN, KAIJI 2, etc.) will consist of an initial First screening (Passport ONLY & Hotel Priority) and a 2nd Screening (Passport Preferred & General Audience). All screenings are based upon seat availability.
Current Main Events include Masquerade and Sixh.'s Fashion Rock Opera Concert.
Attendees can avoid the anticipated huge lines at autographs, premiere screenings, workshops, main events, concerts and panels by purchasing a Passport fast pass for the event. The Passport fast pass will also provide holders with premier seating options at Main Events and at Concert events as well as major discounts with theme parks (including Disneyland and the grand opening of Cars Land, Knott's Berry Farm, etc.), retailers and local restaurants. Bypass the lines and get your Passport today and experience the difference!
AM2 current activities include Exhibit Hall, AMV's, Arcade, Summer Festival, Behind the Voice Actors Studio, Masquerade, Dances, Fashion Shows, Table Top, Console Gaming, Workshops, Panels, Concerts and more!
Summer Festival performers include Ant1Nett, Brathzo, Icarus Kid, Kazha, Lucid and Momotoma and Yukie Dong.
AM2 Premieres, screenings and exclusive screenings include ACE ATTORNEY, FULLMETAL ALCHEMIST: THE STAR OF MILOS, KAIBUTSU-KUN THE MOVIE, KAIJI 2 and more!
9740 Sepulveda Boulevard, #13 phone: 310.869.8030
North Hills, California 91343 fax: 818.894.9554
Current Major Sponsors Include: Anime News Network and Snakebyte USA.
Follow us on Facebook at: www.facebook.com/AM2Con
Follow us on Twitter at: http://twitter.com/AM2Con
About AM2 Located in Anaheim, California – AM2, established in 2010, is a multi-day (3 days) 24 hour event with no general attendance/badge purchase requirement and is aspiring to be a key meeting place for fans that share a common interest in Asian music, Animation/ Anime, and Comics/Manga. Nominal fees are charged for certain activities that attendees choose to participate in. AM2 will be held on June 15-17, 2012 at the Anaheim Convention Center in sunny Anaheim, California. More information can be found at www.am2con.org
The statements made in this press release that are not historical facts are "forward-looking statements." These forward-looking statements are based on current expectations and assumptions that are subject to risks and uncertainties. The Company cautions readers of this press release that a number of important factors could cause this event's actual future results to differ materially from those expressed in any such forward-looking statements. Such factors include, without limitation, product delays, industry competition, rapid changes in technology and industry standards, protection of proprietary rights, maintenance of relationships with key personnel, vendors and third-party developers, international economic and political conditions. The Company may change its intention, belief or expectation, at any time and without notice, based upon any changes in such factors, in the Company's assumptions or otherwise. The Company undertakes no obligation to release publicly any revisions to any forward-looking statements to reflect events or circumstances after the date hereof or to reflect the occurrence of unanticipated events.
---
discuss this in the forum (10 posts)
|
this article has been modified since it was originally posted; see change history