Anime Expo 2012 Welcomes Top Lolita Model Misako Aoki As An Official Fashion Guest Of Honor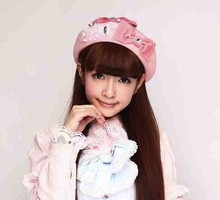 LOS ANGELES (May 31, 2012)
– Spotlighting the best in Japanese street fashion, Anime Expo (AX), North America's largest anime, manga, and Japanese pop culture celebration, welcomes iconic Lolita model Misako Aoki as an Official Fashion Guest of Honor. Named one of Japan's three Cute (Kawaii) Ambassadors by the Japanese Ministry of Foreign Affairs, Aoki will host Anime Expo's three fashion shows on Sunday, July 1 as well as a Lolita Tea Party on Saturday, June 30 at 11 a.m. Anime Expo attendees will also have a chance to connect with the top model at a meet-and-greet and autograph-signing panel when Anime Expo returns to the Los Angeles Convention Center from June 29 – July 2, 2012.
As a top model for BABY, The Stars Shine Bright, Putumayo, Algonquins and other well-known Japanese gothic and Lolita fashion brands, Aoki has graced the pages of the leading Harajuku magazine, "KERA." In her role as an Ambassador of Cute, she has traveled the world to help increase appreciation of Japanese fashion and pop culture. While very active in the Japanese fashion scene, Aoki works to advance social welfare in her primary job as a registered nurse.
Misako Aoki joins the previously announced Anime Expo 2012 line-up that includes composer Yuki Kajiura/"FictionJunction." anime-inspired heavy metal band ANIMETAL USA, Culture Japan's Danny Choo, popular voice actors Jamie Marchi, Monica Rial and Steve Blum, Japanese pop star LiSA, Lolita fashion designer Cyril Lumboy and the Gallery of Fantastic Art.
About Anime Expo
Now in its 21st year, Anime Expo is North America's larges celebration of anime, manga and Japanese pop culture. Anime Expo gives fans the rare opportunity to meet and hear from some of the most famous anime, manga, musical, game, and fashion artitsts from Japan. AX 2012 will feature and exciting schedule of exclusive screenings; artists' panels; live concerts; cosplay; dance parties, karaoke, and video competitions; non-stop video gaming and unsurpassed shopping from more than 3,000 vendors. AX 2012 takes place June 29-July 2, 2012 at the Los Angeles Convention Center. To register or for more information, please visit
www.anime-expo.org
. Connect with Anime Expo on Twitter, Facebook, and Youtube.
About the Society for the Promotion of Japanese Animation
The Society for the Promotion of Japanese Animation (SPJA) is a non-profit organization whose mission is to popularize and educate the America public about anime and manga, as well as provide a forum to facilitate communication between professionals and fans. This organization is more popularly known by its entertainment property, Anime Expo®. For more information, please visit
www.spja.org
.
---