×
remind me tomorrow
remind me next week
never remind me
Subscribe to the ANN Newsletter • Wake up every Sunday to a curated list of ANN's most interesting posts of the week.
read more
Whole Hog Theatre Announces Further Performances of Princess Mononoke at the New Diorama Theatre, London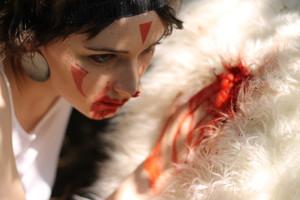 LEAMINGTON SPA, UK – 21.2.13 – Following the success of their Kickstarter campaign, Whole Hog Theatre has announced a further two weeks of performances of their stage adaptation of the Studio Ghibli classic Princess Mononoke at the New Diorama Theatre, London.
The second UK run of Princess Mononoke will take place between Tuesday 18th – Saturday 29th June 2013. Tickets will go on sale on 21th February 2013 and tickets are £15/£12.50 (concessions).
Tickets for the first run of Whole Hog Theatre's stage adaptation of Hayao Miyazaki's epic ecological fable sold out within 72 hours of going on sale. The company advises all those who want to catch the show to book early to avoid disappointment.
Whole Hog Theatre would like to express their gratitude to all those who donated, via Kickstarter and other means, in order to make these further performance dates possible.
'We are thrilled to be able to add another twelve performances to our run. Preparations for the production are proceeding apace well under way in both the rehearsal room and the workshop and it's shaping up to be a really special show. We are over the moon to be able to share it with more audiences.'
ABOUT WHOLE HOG THEATRE: Whole Hog Theatre (www.wholehogtheatre.com) is a young theatre company based in Leamington Spa, Warwickshire (UK) who specialise in adaptation. With the kind co-operation of Studio Ghibli they are staging the world's first theatrical adaptation of Hayao Miyazaki's Princess Mononoke at the New Diorama Theatre in London between April and June 2013.
ABOUT THE NEW DIORAMA THEATRE: New Diorama (www.newdiorama.com) is an 80 seat theatre located in central London (UK). They host and support theatre companies, both emerging and established, presenting a variety of productions ranging from comedy to drama.
Princess Mononoke
Tuesday 18th - Saturday 29th June, 19:30. Saturday Matinee @ 15:30.
Tickets: 15/£12.50 (Concessions)
Buy tickets at the New Diorama Theatre website www.newdiorama.com
---