eManga Now Offers Free Genki Life Magazine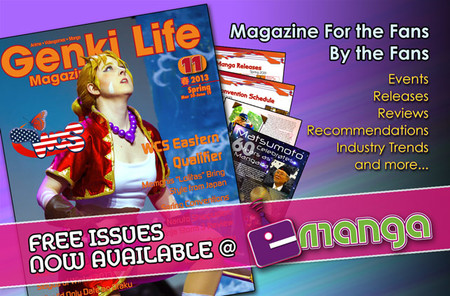 Gardena, CA. (March 21, 2013)
Digital Manga, Inc., one of the manga industry's most progressive and innovative publishers, is excited to announce that
Genki Life Magazine
will now be available at their digital ebook storefront,
eManga.com
. Genki Life Magazine is a free, digital magazine published quarterly by the Genshiken of the Inland Empire fan club that provides entertaining and informative content on anime, science fiction, video games, events, and more.
Beginning in the fall of 2010, Genki Life Magazine has been publishing its free fan magazine under the simple objective of fostering a community of active anime fandom.Genki Life Magazine offers convention coverage, reviews and recommendations, features on industry trends, and more. Genki Life Magazine's mission and target audience makes it an ideal addition to eManga, enriching the diversity of eManga's catalogue to include high quality fan-generated content.
Completely free, past issues of Genki Life Magazine are currently available for online viewing and digital download in our seven unique ebook file formats. Go directly to: (
http://www.emanga.com/search?status=2
)
Visit us at
www.eManga.com
and sign up for the eManga newsletter and get all the latest updates!
Questions? Contact us at
[email protected]
About Digital Manga, Inc.
Located in Gardena, CA, Digital Manga, Inc. is one of the industry's most unconventional and innovative companies, specializing in building corporate and cultural bridges from Japan to the West — specifically through the licensing, importation and preparation of anime (Japanese animation), manga (Japanese comic books) and related merchandise for North America's mainstream and niche markets. In this capacity, DMI serves as a catalyst for the spread of Japanese pop culture institutions into the global arena. The company's imprint lines include DMP (its mainstream imprint), DMP PLATINUM (its classic manga imprint), JUNÉ (its boys love imprint), 801 MEDIA (its adult boys love imprint), DokiDoki (its exclusive co-publishing imprint with Shinshokan Publishing), DH/DMP (a co-publishing venture with Dark Horse Comics), Project-H (its Seinen Hentai manga imprint), and DMG (a unique digital distribution initiative).
For more information about Digital Manga Publishing, visit
www.digitalmanga.com
as well as:
www.dmpbooks.com
www.junemanga.com
www.digitalmangaguild.com
www.emanga.com
www.projecth.xxx
Follow us on twitter @digitalmanga
Find us on Facebook: Digital Manga Inc.
---