Rising Star Announces Girls' Fashion Shoot for Nintendo 3DS™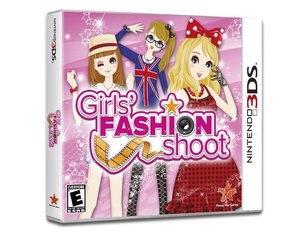 Calling All Fashionistas!
Build your own fashion empire that reflects your unique personal style both as a successful model and a powerful magazine editor!
LOS ANGELES -- May 14, 2013 --
Rising Star Games Inc, a leading publisher of interactive entertainment, today announced Girls' Fashion Shoot for the Nintendo 3DS™ this fall. Girls' Fashion Shoot lets players enter the world of fashion by becoming an influential model and launching a successful magazine.
Enter the world of fashion and build your career as the next top model and editor in Girls' Fashion Shoot. Take the reins at a popular fashion magazine, become a model yourself and aim for the top by creating stylish articles that get attention. Create your own style from hundreds of outfits, hairstyles, and nails and then go on fashion shoots where you create the poses and looks for eye-catching magazine articles and covers. Use the money you earn to upgrade your wardrobe and apartment. The sky's the limit!
"This is a fabulous way for players to flex their flair for fashion," said Phil Robinson, vice president of Rising Star Games. "Not only are they putting together fierce looks for the runway, but also making sure those looks translate to the magazine page, so they're sharpening their business acumen while being creative and having fun."
Girls' Fashion Shoot is rated 'E' for Everyone, and is expected to launch in fall 2013.
About Rising Star Games
Rising Star Games USA, based in Los Angeles, CA, with their head office based in the United Kingdom, distributes interactive entertainment software in North American and European territories for Microsoft Xbox 360™, Nintendo 3DS™, Nintendo DS™ and Nintendo Wii™, Sony PlayStation®3 system and Sony PSP® (PlayStation®Portable) system. Bringing decades of combined experience with unique knowledge and a genuine passion for interactive entertainment, Rising Star Games expanded its reach to a larger Western audience in 2012, and delivered such notable titles as
Under Defeat HD Deluxe Edition
,
Carrier Command
,
Akai Katana
, and are making waves with a robust 2013 lineup, which includes the industry-polarizing
Deadly Premonition: The Director's Cut
, and the legendary
Super Black Bass 3D
. More information on Rising Star Games can be found at
www.risingstargames.com
.
---