Sayaka Sasaki Featured as Musical Guest at First Otakon Vegas
Las Vegas, NV (November 14, 2013) – Otakon Vegas is proud to feature singer Sayaka Sasaki as guest at our first time event.

Sayaka Sasaki was born in Akita on June 19th making her a Gemini. Her blood type is O.

Sayaka Sasaki got her break when she competed in the Animax Anison Grand Prix and won the grand prize. She debuted in 2010 with the opening theme to Book of Bantorra titled "Seisai no Ripieno." While still a brand new artist, she has already gained extensive experience and praise by performing in various venues such as ANIMX, JCB Hall, Yokohama Arena, and Animelo Summer Live 2011 as well as several others.

In February 2011, a year after her debut in, Sayaka Sasaki performed a solo concert. Due to her popularity, tickets were sold out on the first day and another concert date was added. Her popularity also crossed into the digital domain where she received 45,000 views from the Nico Nico Douga Live viewing of the concert which garnered over 47,000 comments from her fans.

In 2012 Sayaka toured Tokyo, Osaka, and Akita.

Sayaka Sasaki's other titles include "Zzz" from the ending theme to the popular anime series Nichijou - My Ordinary Life, the opening theme from the TV anime So, I Can't Play H!, and has also released her second album Daybreaker in May 2013.

You can find out more information about her at her website: http://sasakisayaka.com/

Otakon Vegas 2014 will be held January 3-5 at the Planet Hollywood Casino in Las Vegas, NV.

ABOUT OTAKON VEGAS AND OTAKORP, INC.: Otakon Vegas is the first annual celebration of Japanese and East Asian popular culture presented by Otakorp in Las Vegas, Nevada. Otakon Vegas celebrates popular culture as a gateway to deeper understanding of Asian culture. Otakon Vegas is a ticket based convention sponsored by Otakorp, Inc., a Pennsylvania-based 501(c)3 educational non-profit whose mission is to promote the appreciation of Asian culture, primarily through its media and entertainment. Otakorp, Inc. is directed by an all-volunteer, unpaid staff – we are run by fans, for fans.

For more information about Otakorp, Inc., see http://www.otakon.com/otakorp/index.asp


For more information and the latest news on Otakon Vegas 2014, see http://www.otakonvegas.com/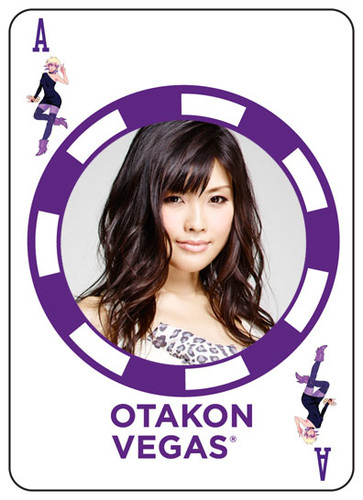 ---