Mangaka Igarashi Yumiko Exhibition and Artwork Collection to be Showcased in France
The AOJI art gallery is proud to present its new limited and exclusive artworks collection dedicated to the graphical universe of famous mangaka
Yumiko Igarashi
specially
invited from Hokkaido to France
to inaugurate the collection with two exhibitions !
As a premiere, the exhibition "Igarashi Yumiko, Empress of Shôjo Manga" will be held for the visitors of Japan-Touch, in Lyon. Igarashi Sensei will also gratify the visitors with live-art performance and a conference about her career.
Paris, Dec. 4th 2013 - Jan. 4th 2014 :
Public opening celebration on Decembrer the 4th in presence of Igarashi Yumiko at Manga Café V2, Paris 13th district. The exhibition will last until the 4th of January 2014.
"Igarashi Yumiko, Empress of Shôjo Manga"
the new artworks collection
AOJI Gallery pays tribute to one of the most representative manga master of Japan: Yumiko Igarashi. With a 45 years long career in manga creation, her original
productions like "
Candy Candy
", "
Georgie
", "
Mayme Angel
" have been read by millions of fans all over the world.
"Igarashi Yumiko: Empress of Shôjo Manga" Exhibition compiles 20 original artworks selected from "Mayme Angel", "Josephine", "Madame Bovary", "Romeo And Juliet", "Koronde Pokkle" series and other exclusive creations.
These editions are signed by the artist and limited to only 9 edition worldwide !
Pre-Order opened untill November the 25th 2013
Get the sign right below the Illustration !

Only pre-orders until 25th of December 2013 will be signed on the
artworks, orders made after the pre-order period will be signed on
the Certificate of Authenticity.
Pre-Order Now !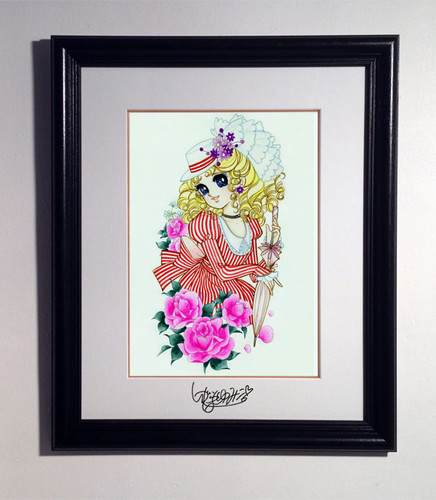 Lady Umbrella, by Igarashi Yumiko
"This character is prior to Candy. As it had a great success, I took inspiration from this character when I started the series Candy."
Discover all the available illustrations now !
www.aoji.fr/igarashi
---