×
remind me tomorrow
remind me next week
never remind me
Subscribe to the ANN Newsletter • Wake up every Sunday to a curated list of ANN's most interesting posts of the week.
read more
RIGHT TURN ONLY!!
Mushi Mushi?
by Carlo Santos,


With the American football season nearly upon us, one major question arises: just how geeky is it to enter a NFL fantasy football league and name your team the Devil Bats?
Seriously. Humor me.
---
THE LAST UNIFORM


Vol. 1
(by Mera Hakamada, Seven Seas, $11.99)
FROM THE BACK COVER:
"Each girl at the Tsubakigaoka Girls' Dorm is paired with a roommate. Tsumugi with Beniko, Ai with Fuuko. Yet the girls each have their own crushes on each other, and it's making it impossible for them to stay 'just friends.' But can one girl really
love
another?
A charming tale of yuri romance that deals with the perennial question 'who's going to hook up with who' with a twist."
EVIDENCE FOR:
The Last Uniform lays it on super sweet, with fleeting vignettes of schoolgirl life that are clearly more idealized than the real thing. But that's okay, because as a feel-good charmer, it's second to none—Ai and Fuuko's "how they met" chapter and Tsumugi's first (unexpected) kiss with Beniko are just two of the many "aww"-inducing moments in the story. If the average high school melodrama feels like too much, and nuanced emotions are more your style, then this is the perfect series to get into. The most fun comes from trying to read the characters' unspoken feelings, guessing at the real intent behind their words. A clean, simple art style guarantees easy reading, so that story and emotion come straight to the surface, and the varied character designs help to keep the cast memorable. By the end of the volume, there are at least 5 or 6 girls actively involved in the story, and that's going to be one hell of a love polygon when it's all said and done.
EVIDENCE AGAINST:
What happens when a slice-of-life cuts its slices too thin? The short chapters prevent this series from developing into more serious business; a storyline will have barely begun when—whoops!—suddenly the focus shifts to another character and another situation. It would be okay if the chapters followed any sort of chronological order, but they seem more like snapshots in time, jumping to various stages in the characters' relationships. Sometimes their story paths cross, mostly when everyone gets together to hang out, but aside from that it's basically a series of (to use a fanfiction term) drabbles. Another side effect of this is that the characters themselves don't develop much beyond their basic personality types: oh, you've got the klutz, the neat freak, the beauty, and so on, but they don't grow emotionally beyond that. It'd be a shame if this romance turns out to only be skin deep.
FINAL VERDICT:
Watching these girls blush over each other is absolutely adorable, but if the story doesn't start coming together, it'll be stuck at
B-
.
---
MUSHISHI


Vol. 2
(by Yuki Urushibara, Del Rey, $12.95)
FROM THE BACK COVER:
"
Mushi
, a terrifying primitive life-form, take countless shapes—most of them deadly to the human race. Enter Ginko, a mushi expert, known as a
mushishi
. Though his laconic smile and soft-spoken manner don't seem imposing, he represents the human world's greatest defense. When a fellow mushishi disappears, Ginko must search for him on a mushi-infested mountain, putting his own life on the line!"
EVIDENCE FOR:
Nothing beats Mushishi when it comes to generating a pure sense of wonder and discovery. This volume continues to build on the strengths of the first, and you don't have to go very far in the first chapter for that first "Wow" moment—a two-page spread of Ginko summoning up a whole forest of mushi. There's plenty more where that came from, as the artwork continues to grow in virtuosity and confidence. With densely sketched lines and varied textures, the landscape of rural Japan becomes a character unto itself—whether it be the rain-drenched greenery of the rainbow chapter or the rocky outcroppings of the "god of life" chapter. But the real heart of the series lies in the characters that Ginko meets. A young girl who lives an entire lifetime each day; a storyteller whose writings on mushi have become actual mushi; a mother who can't let go of her sons ... stories like these succeed not only because of their emotional pull, but also because of the stunning ideas that link the mushi to these people. Studying wildlife can be something of a specialized pursuit, but studying fantastic and mysterious wildlife—well, that's enough to grab any reader out there.
EVIDENCE AGAINST:
Mushishi is loaded with beautiful, beautiful stories ... none of which connect to each other. This lack of continuity is the series' most gaping (if only) flaw. Ginko is the one recurring character, and all he does is show up for each chapter, explain what kind of mushi is at work, and then resolve the situation as needed. We never learn anything more of his back story, and we certainly don't see his character develop—in terms of functionality, he's about as much use as the Twilight Zone narrator. Sometimes even the individual stories slip up—the first one in this volume, "The Mountain Sleeps," fudges over the biology of the local mushi and makes up some mumbo-jumbo about the "master of the mountain." Sounds more like a woolly folk tale than a logically precise mushi tale. (And by the way, who wrote the copy for the back cover? This isn't Evil Monster Invasion From Beyond, for goodness sakes.)
FINAL VERDICT:
With solid stories and breathtaking art, these unique biological fables are worth at least an
A-
.
---
SUGAR SUGAR RUNE


Vol. 6
(by Moyoco Anno, Del Rey, $10.95)
FROM THE BACK COVER:
"Outgoing Chocolat and shy Vanilla were best friends before they came to the Human World. But the competition to see who will be the next Queen of the Magical World has ended their friendship. Worse, Vanilla has embraced the Dark Magic of the Ogres and is now an enemy of all witches.
While trying to coax Vanilla out of her deep enchanted slumber and take her away from the Ogres, Chocolat discovers something about herself. She's a Filtre—one who has the power to change sickened, black noir hearts to white! Meanwhile, Chocolat's crush—the Ogre prince Pierre—has infiltrated her school.
What is his plan? Chocolat wants to believe that deep down Pierre means well—but how can she?"
EVIDENCE FOR:
Okay, consider this my last-ditch attempt to hype up the best shoujo-fantasy series that no one is reading. If the plot summary above didn't make any sense to you, that's because you're missing out on a wonderfully complex universe, one that's packed with whimsy and intrigue. All the buildup of the past five volumes (including Chocolat's amazing journey in Vol. 5) comes to a head as major plot points crash into each other like dominoes. Is Vanilla doomed to be evil forever? Does Pierre truly have feelings for Chocolat? And if so, will he side with the Ogres or the Magical World? These questions are answered in style by Moyoco Anno, who renders every scene in the book with dashing lines and flamboyant designs. Sometimes she doesn't even bother with panels, because the flow of the story is so compelling, no 2-D box can contain it. Certain moments stand out especially well: Chocolat's glimpse of Vanilla's memories, Pierre's confrontation with the Ogre people, and the girls' battle against their greatest fears. See, the challenge isn't about collecting hearts or defeating rivals anymore: it's about mastering one's own emotions. Now that's some deep stuff— lot deeper than the "magical girl" label suggests.
EVIDENCE AGAINST:
What happens when major plot points come crashing into each other? Stuff starts happening out of nowhere! The biggest offender in this case is when Chocolat and Vanilla are whisked to Hollywood to meet the "Witch of Light," which is the most ridiculously arbitrary event ever. (The fact that it plays out as "two kids showing up at the Academy Awards" makes it even more embarrassing. Suspension of disbelief only goes so far...) The arrival of double-crossing wizard Alchimie also feels like an awkward bump in the plot; readers may have a hard time remembering him from Vol. 5, and his motives are so shady that his behavior makes little sense. But the other main source of confusion is much more apparent: extremely crowded page layouts, with lines and patterns and effects occupying every corner of available space. Yes, it's all part of Anno's inimitable style, but it really tires out the eyes after a while. Take a break after a couple of chapters if you have to.
FINAL VERDICT:
Apart from the plot hiccups, this volume proves more than ever that Sugar Sugar Rune is the real deal—an
A-
deal, to be precise.
---
TRULY KINDLY

(by Fumi Yoshinaga, BLU, $9.99)
FROM THE BACK COVER:
"From modern-day tales of romance in Seattle, to eerie stories from historical Japan, to Yoshinaga-sensei's depiction of the class conflicts that fueled the French Revolution... In these unforgettable tales, there's a little something for every BLU fan!
And perhaps best of all, the characters Claude and Antoine—a young aristocrat and his butler—are introduced in this volume. Catch up to their later adventures in Fumi Yoshinaga's
Lovers in the Night
!"
EVIDENCE FOR:
There's an air of guilty-pleasure voyeurism in this collection of BL short stories, like you're being let into the secret world of hot guys behind closed doors. The feeling is strongest in works like "A Slightly Malicious Confession" and "Chinoiserie," where the lead male maintains a "respectable" hetero relationship while seeing other guys on the side. What may be surprising, though, is that Yoshinaga never lets the smut take over: the sex in "Malicious Confession" is confined to a mere flashback, and the historically-themed "Pandora" actually has an intriguing plot about a genius lockpicker. And really, that's what sets Yoshinaga's work apart—she works hard to make you care about the characters and their emotional conflicts, whether they be exam students or French aristocrats. Naturally, the artwork is easy on the eyes—the men are handsome, but not improbably so (no linebacker shoulders or armor-piercing chins here), and the clean, expressive lines flow naturally from panel to panel. Go ahead, take a peek and let yourself in on these deeply passionate secrets.
EVIDENCE AGAINST:
Maybe I'm just being a sourpuss, but it's annoying to see the original pilot episode for Lovers in the Night being published several months
after
that title. It just makes this whole volume feel like an art dump—"Oh, here are all the Fumi Yoshinaga shorts that we couldn't squeeze in anywhere else." That would also explain the hit-or-miss quality of the book: the title story is the weakest and most confusing, and "A Today Completely Different From Yesterday" is the closest thing to Porn Without Plot. Seems that Yoshinaga works better in a foreign or historic setting, as it's the stories set in modern-day Japan that fall short. After a while, even the rules of yaoi (if you didn't know them already) grow repetitive and tiresome: tall guy and short guy, light hair and dark hair, at least one sex act per chapter, yada yada. The only thing that changes is the characters and settings. Sure, the individual stories are well-crafted, but this is really just a throwaway, short-attention-span BL collection.
FINAL VERDICT:
It's clearly an insta-buy for Yoshinaga fans, but most other folks can afford to pass. Good stories overall, but their shortness and shallowness make it a
C
.
---
WAR ANGELS


Vol. 1
(by Jae-Hwan Kim, Tokyopop, $9.99)
FROM THE BACK COVER:
"It's the year 2504. In the aftermath of an apocalyptic war, the surviving humans are ruled by the Beasterians, animal-human hybrids created to be the ultimate soldiers, but who instead became merciless tyrants. Doomed to extinction, humanity's future rests with the savior whose birth is foretold by the Post-Testament Bible."
EVIDENCE FOR:
Jae-Hwan Kim sure loves his hard-hitting action epics, and this one is no different. The Western-fantasy influence from his Warcraft work is strongest here, with rocky rural landscapes, brawny men, and busty women. Sometimes it's nice to just sit back and ogle the art, which overflows with detail—every wrinkle of the face, every fold of clothing, every little shadow and corner. When it comes time to fight, Kim doesn't skimp there either, with brutal attacks that take up big panels and eye-popping angles. When makes a fist makes solid contact, you can almost feel it through the page. Forget about all those scrawny 15-year-old schoolboys who discover secret latent powers and battle increasingly difficult foes—these heroes are made of far tougher stuff, and when they face off against the beasts, they fight like they
mean
it.
EVIDENCE AGAINST:
Wow ... could this be any more silly? From the post-apocalyptic theme to the pseudo-Christian talk (God, mercy, sins, forgiveness), this is just a fantasy adventure that's puffed itself up to look more impressive than it really is. The story is nothing more than seeing our heroic "angels" romping through the countryside, vanquishing beasts and saving assorted civilians. Sure, they're doing it "in the name of God," and the climactic battle of this volume is set in an old church, but that's all just window-dressing for this brainless beat-'em-up. Put it in any other scenario—say, ancient India with Buddhist overtones—and you could still tell the same story, which shows how truly empty it is. And even then, it's not like the main characters offer anything appealing: just another heroic trio consisting of a super-strong leading man, a finesse fighter, and a token woman. You could get the same result rolling dice for a set of Dungeons and Dragons characters. Look, if I wanted a comic about musclebound heroes in improbable outfits fighting the forces of evil, I could get plenty of those straight from America.
FINAL VERDICT:
It's a shame to see Kim's considerable talent and attention to detail go to a project like this. This one gets a
D
... for dumb.
---

BOMBOS VS. EVERYTHING


Vol. 1
(by Maximo V. Lorenzo, Tokyopop, $9.99)
FROM THE BACK COVER:
"To get to the most awesome city of Bokonon, a select few prospects must survive an epic showdown with the mysterious Qualifiers. So here's Bombos, paperboy extraordinaire. More than anything, he wants to get to the city and he knows how to do it—with attitude and a big ol' bat. But it ain't gonna be easy. Here's a random sampling of the insanity that stands in his way: A bizarro editor-in-chief, a hyper-competitive loser named Veng, and a giant potato-like creature with indiscriminate eating habits... And of course, don't forget those mysterious Qualifiers! We'll make sure there's a bit of bat-fighting thrown in, just to keep the kids happy..."
EVIDENCE FOR:
Remember three years ago when Andy Helms won the 4th Rising Stars of Manga contest with his Bombos one-shot? (Of course not, nobody reads Rising Stars of Manga.) Helms went on to other projects, but Maximo Lorenzo—a runner-up from the same contest—has taken the concept to graphic novel fruition, with fantastic results. It's basically a love letter to every coming-of-age boy-meets-world action epic out there, but it is so joyful, so dynamic, that it's impossible not to get hooked. Lorenzo's scratchy, punk-rock linework calls to mind Hajime Ueda's FLCL manga, except
this series actually makes sense
, which makes all the difference in the world. Bombos's fights are wild and rough, always threatening to fly right off the page, yet the layout is clear enough to understand what's going on—his finishing blow against the Qualifier, for example, is so cinemetically perfect that it deserves to be read twice. But even so, the series also displays a wide emotional range—from the brash, irreverent dialogue ("I seriously doubt you can grasp the magnitude of ass-kicking you're about to receive!") to quiet moments of crushing poignancy (end of Chapter 3). In short, it makes you root for the characters in battle
and
care about them deep down, in a way that surpasses many other rock-'em-sock-'em fight series.
EVIDENCE AGAINST:
Oh, it's so easy to spot when an upcoming young artist loves Naruto. Just look—Bombos is a cocky young hero who annoys everyone else in his small-town village, there's only one girl who bothers to talk to him, his closest male acquaintance is a fierce rival, and he's dead set on training to become the toughest fighter. (But hey, if it works for Kishimoto, might as well use it...) Perhaps the best approach to enjoying this volume is to just strap in for the ride and try not to mentally compare it too much to anything. The story is simple and way too predictable, and the main characters aren't developed much beyond the concept of being badass dudes. The hipster appeal also comes on too thick at times—brash dialogue is nice, but people don't have to be constantly saying "My awesomeness is totally awesome" (or something to that effect). This is a story so wild and action-packed that the inherent coolness ought to speak for itself.
FINAL VERDICT:
With its fun, irreverent attitude and high-octane art, this is one Tokyopop original that
isn't
embarrassing to read. Anyone who loves action ought to pick it up.
---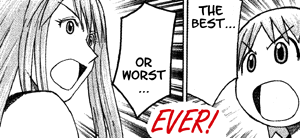 Our world tour of epically bad manga continues! Just to show that mediocrity knows no national boundaries, here's a look at the
Worst Amerimanganese-comic-thingy I've Ever Read
:
SERENITY: BAD GIRL IN TOWN


Vol. 1
(by Buzz Dixon and Min Kwon, Realbuzz Studios, $9.99)
Right now, I don't really care anymore if a publisher wants to slap big eyes and small noses on a comic and call it manga. And I don't really care if it has a particular religious focus—all creators are entitled to express themselves, right? What I do care about, however, is creators expressing themselves well, and that just doesn't happen with this so-called "Christian manga." See, Christianity has inspired some pretty impressive works in the last couple of millennia—the Masses of Bach, the frescoes of Michelangelo—and in that respect, Serenity falls way,
way
short.
The story is simple and well-intentioned: Serenity is a teenage girl who arrives at her new high school and immediately starts making trouble, which leads the local Christian youth group to reach out to her and show her that it's much nicer to be nice. Unfortunately, the story stumbles every step of the way, with its awkward pacing and proselytizing, and full-color artwork that—while capturing some of manga's visual appeal—is most notable for how garish and unpolished it looks. And how can anyone get into the story when it keeps getting interrupted by explanatory Bible verses? Even Jesus took the time to tell his parables all the way through, and offered intellectual challenges on top of that. This, on the other hand, treats the readers as if they are dumb as rocks, beating everyone over the head with catechism; cardboard characters and generic high-school situations aren't exactly what one would call inspirational.
But what's most embarrassing is seeing people praise this work because it contains "no occultism, no violence, no sex, and no cursing." Did they not also notice that it contains no depth, no nuance, and no craftsmanship? Goodness, if you want to read a quality comic with Christian themes, read Gene Yang. At least he knows what he's doing.
---
discuss this in the forum (36 posts)
|