×
remind me tomorrow
remind me next week
never remind me
Subscribe to the ANN Newsletter • Wake up every Sunday to a curated list of ANN's most interesting posts of the week.
read more
Sound Decision
Evangelion
by Jonathan Mays,
Title:
Neon Genesis Evangelion
Original Soundtrack
#1
Artist:
Shiro Sagisu
Label:
Geneon
Anime Music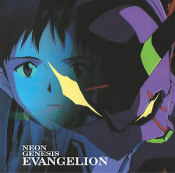 Release Date:
2004-01-20
Suggested Retail Price:
$14.98
Description:
Eva. Evangelion. Neon Genesis Evangelion. Shin Seiki Evangelion. No matter which name it goes by, fans alike recognize this title as one of the most phenomenally popular and controversial anime series of all time, with its non-conventional storylines, intriguing characters, top-notch animation and magnetizing music.
While the series is over, the captivating music still remains, with the Neon Genesis Evangelion Original Soundtrack bringing all of those powerful tunes back to the forefront. This CD has 23 tracks of various music styles (Japanese Pop, orchestral score, country, jazz, etc.) designed to grab and hold the listener's attention, and features the highly energetic opening song, "Cruel Angel's Thesis" and the signature ending theme "
Fly Me to the Moon
."
Track list:
Cruel Angel's Thesis
Fly Me to the Moon
Angel Attack
Rei I
Hedgehog's Dilemma
Barefoot in the Park
Ritsuko
Misato
Asuka Strikes!
NERV
Tokyo-3
I. Shinji
EVA-01
A Step Forward into Terror
EVA-02
Decisive Battle
EVA-00
The Beast
Marking Time, Waiting for Death
Rei II
Fly Me to the Moon (instrumental)
Next Episode
Fly Me to the Moon (Acid Bossa version)
Total time:
0:54
(Added on 2004-01-28)
This volume was reviewed in the Sound Decision column of January 28, 2003.
---
back to Sound Decision - Live
Sound Decision homepage / archives