Visual Novel Giveaway Contest: If My Heart Had Wings - Winners
July 25, 2013
We're giving away 5 copies of MoeNovel's flagship game, If My Heart Had Wings, and all you need to do is answer one question!
Curious about the game? Here's the PR copy:
This game is an animated visual novel based on a youthful, dream filled high school life story.
The story of the game is set in Kazegaura, a suburb in Japan, just outside of Tokyo.
The main characters in this story are students at the "Keifu Academy", a technical school, also known as a "specialized vocational high school".
The protagonist of the game, Aoi Minase, is a young boy who lost his dream in a bicycle racing accident and subsequently returns to his hometown. There, he meets Kotori Habane, a young girl stuck with a wheelchair with a flat tire, on a hill with windmills.
They then spot large, white wings traversing the sky over the hills- a glider. Both had yet to realize that everything would begin from this.
Working together with Aoi's childhood friend Ageha Himegi, they begin rebuilding the Soaring Club, which was just about to be disbanded.
In order to realise the dream everyone has as a child- "I want to soar up to the great sky and fly", these beginners take hold of their passion, overcoming failures and obstacles from the school to put their all into building a glider.
They strive to fly through the "morning glory", a special weather phenomenon that enables a special type of roll-shaped cloud that appears in the morning when the conditions are just right.
This game portrays the player as Aoi, the protagonist, and brings the player through the feat of building the glider that will realize their dreams, while bonding with the female characters.
And now, a trailer:
And some images; click to embiggen!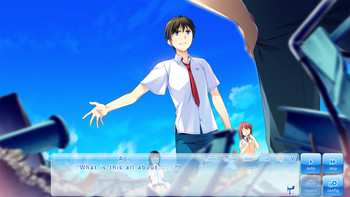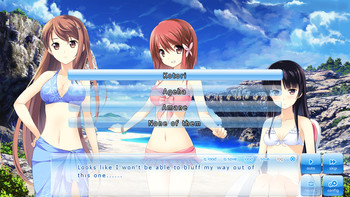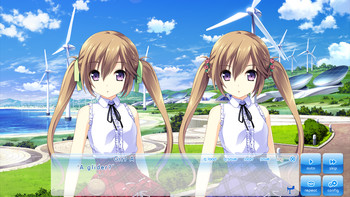 This Contest is Over!
Winners:
Alyssa Castle, Illinois
Charles DeYoe, New York
Luigui Vegas, California
Patrice Vienneau, Quebec
Ian Milton, British Columbia

The Fine Print: Although unlikely to happen,
Anime News Network
reserves the right to cancel this contest at any time. Contest is open to any and all residents of the planet Earth and neighbour parallel dimensions. Winners' names will be posted on AnimeNewsNetwork.com, their mailing addresses will be provided to our shipping agent of choice (ie: USPS) and no one else. Winners' addresses and e-mail addresses will be erased once the prizes have been shipped. Non-winners' names, e-mail and mailing addresses will not be given out to any one and will be erased when the winners have been confirmed. Non-winners will not be contacted, spammed or harassed in any way. We reserve the right to retroactively add new rules when and how we see fit.
---
discuss this in the forum (71 posts)
|
this article has been modified since it was originally posted; see change history