×
remind me tomorrow
remind me next week
never remind me
Subscribe to the ANN Newsletter • Wake up every Sunday to a curated list of ANN's most interesting posts of the week.
read more
Feature: Lantis Festival Tokyo
by Sarah Nelkin,

Japanese music publisher
Lantis
recently held its Lantis Matsuri (Lantis Festival) event across Japan in celebration of the label's 15th anniversary. The final day of the Tokyo event was visited by approximately 8,000 people, while the event's peak on the previous day had twelve thousand spectators.
Here's a look at the acts that performed on the final day:
The pop/heavy metal band is known for their theme songs for
Qwaser of Stigmata
and the currently-broadcasting
Tokyo ESP
. The band performed the songs "Kyūsei Ἀργυρός" (Salvation Silver), "Senketsu no Chikai" (Oath of Fresh Blood), Filament, as well as Kūsō Mesorogiwi (Daydream Mesorogiwi), the first opening theme song to the
The Future Diary
(Mirai Nikki) anime, and "Kyōki Chinden" (Madness Deposition), an unaired opening theme to the same anime.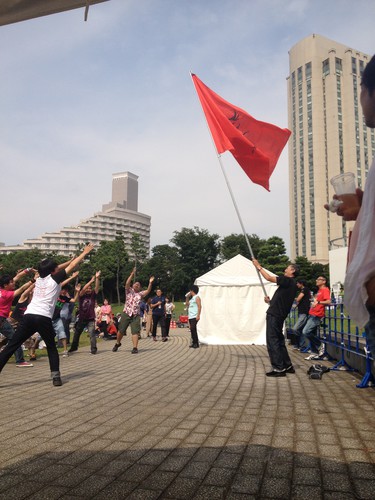 During the band's performance, a fan in the back raised up a large flag with the emblem of the band, which other fans worshiped. The man with the flag pole was quickly taken away by event staff.
Singer Aki Misato, singer of
Blassreiter
and
We Without Wings - Under the Innocent Sky
theme songs who is celebrating her 10th anniversary since her debut, appeared onstage in a yukata. After she sang the song "Calling," fans (seen below) head-banged and jumped to her performance of "BLOOD QUEEN," the opening theme to the 2007 anime,
Princess Resurrection
(Kaibutsu Ōjo).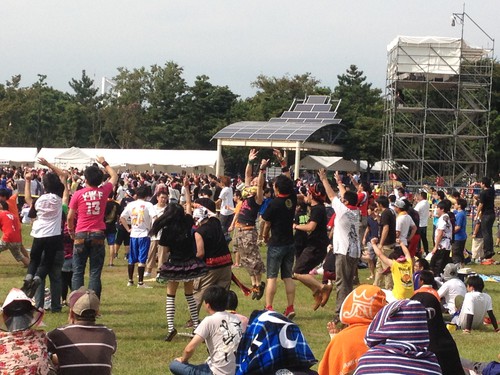 Musical duo marble, known for their theme songs used in
Hatsukoi Limited
and
Kamichama Karin
, performed
Hidamari Sketch
ending theme song "Mebae Drive" (Budding Drive) and
Hidamari Sketch × Honeycomb
ending "Yume Gumo" (Dream Cloud). Vocalist
micco
commented on the latter song, saying that it is an important song to her that reminds her that there is no final goal in life, and that life is a continuing journey. Aside from performing the vocals, micco also played the xylophone.
Gaist Crusher
and
Saint Beast
theme song vocalist Hiroshi Kitadani made fans rejoice by performing the
One Piece
opening theme "We Are!" after singing his song "Divine love." Fans did not hesitate to sing along to the former. Kitadani is celebrating the 20th anniversary since his debut.
Endōkai
The musical unit Endōkai invaded Kitadani's performance by performing a long comedy skit. Afterward, they performed the
Kenzen Robo Daimidaler
theme song.
The female vocalist known for her performances in
Nichijou - My Ordinary Life
and
The Book of Bantorra
performed the song "Junction Heart." Before performing the
So, I Can't Play H!
theme song "Reason why XXX," she asked her fans to say "H ga Dekinai" (Can't Play H, or, '[I] can't have sex') after she said, "Dakara Boku wa" (So I).
The Legend of the Legendary Heroes
and
sola
theme song performer Ceui appeared on stage in an extravagant dress that was so large that it had to be carried by back-dancers. She also wore a very big headdress of silver flowers on her head. Ceui performed the songs "Zenchi Zennō Shangri-la" (Almighty, All-Knowing Shangri-la) and "Revolution."
Voice actress and singer Yuki, also known for her work on The Legend of the Legendary Heroes and sola, performed the
Star Blazers 2199
ending theme "Hoshi ga Towa o Terashiteiru" (The Stars Are Shining Eternity) and
Horizon in the Middle of Nowhere II
ending theme song "Kanashimi wa Dare no Negai Demo Nai" (Sadness Is Not Anyone's Wish). She also announced that her very first acoustic solo concert will be held on November 30 at the Roppongi Claps venue.
Aura: Maryūinkōga Saigo no Tatakai
and
School Days
theme song performer CooRie sang the ending theme to the 2007 anime
D.C. II: Da Capo II
, "Yasashisa wa Ame no You ni" (Kindness is Like Rain), as well as a cover of
Sphere
's song "Super Noisy Nova" that was used as the opening theme to
Sora no Manimani
.
Yozuca*
After CooRie's solo performance, vocalist Yozuca* appeared to perform a
Da Capo
medley as the duet Yozurino*. The duet performed "Dai 2 Button no Chikai" (The Promise of the 2nd Button), "BELIEVE," and "Hello Future." After CooRie left the stage, Yozuca* performed
D.C.III ~Da Capo III~
ending theme "Aitai yo" (I Want to See You) and 2006 anime
Girl's High
opening theme "Kirameku" (Sparkling).
Before the 20-minute intermission, many of the female vocalists appeared on stage to perform Yozuca*'s song "Super Affection," which served as the opening to the Carnival Phantasm series of OVAs.
Musical duo ULTRA-PRISM performed the
Squid Girl
opening "Shinryaku no Susume" (Moving Ahead on the Invasion), as well as their song "ULTRA-DATE!" In between songs, the female vocalist raised up a star wand, telling fans that it was a magical device that had the strangely specific power of being able to make crowds do the wave. While running across the stage following the wave, she also jokingly complained that she didn't see anyone in the crowd wearing an ULTRA-PRISM t-shirt.
Katanagatari
and
CANAAN
theme song performer Anabel sang the
Love, Election and Chocolate
opening theme, "Signal Graph" and
Red Data Girl
theme song "Small WorlDrop." Annabel is celebrating the fifth year since her debut.
Before leaving the stage, Annabel and ChouCho performed the
Hyōka
opening theme song Yasashisa no Riyū (The Reason of Kindness). Afterward, ChouCho performed
GLASSLIP
opening theme "Natsu no Hi to Kimi no Koe" (A Summer Day & Your Voice) and
Girls und Panzer
theme song "DreamRiser."
ZAQ, an singer-songwriter who debuted with Lantis, performed
Rail Wars!
theme song "OVERDRIVER" and
Love, Chunibyo & Other Delusions!
theme "Sparkling Daydream," which was also her debut song as a vocalist.
After performing Kamichama Karin opening theme "Ankoku Tengoku" (Evil Heaven), she commented that it is still a mystery to her why they asked Ali Project to perform the song for the children's anime, and she suspects that her song haunted children who watched. Ali Project rounded out the Princess Resurrection theme songs with the ending "Hizamazuite
Ashi
o Oname" (Get On Your Knees and Lick My Feet).
Voice actress and singer Minami Kuribayashi performed Katanagatari opening theme "Meiya Kadenrō," as well as Rumbling Hearts (
Kimi ga Nozomu Eien
) opening theme "Precious Memories" and
Fate/kaleid liner Prisma Illya 2wei!
opening, "moving soul."
The band lead by
voice actor
Kishō Taniyama
performed
Kuroko's Basketball
opening "Hengen Jizai no Magical Star" (Phantasmagoric Magical Star), as well as their song "Summer GT." Afterward, Minami Kuribayashi returned to the stage. Taniyama commented that he first met Kuribayashi during the Rumbling Hearts anime when Taniyama played protagonist Takayuki and Kuribayashi played heroine Haruka. He also noted that even now, fans (especially male) still call him a good-for-nothing due to the role he played. As a "reunion" between Takayuki and Haruka after 10 years since the anime broadcasted, the two performed two songs together: "Mikansei no Guilty" (Incomplete Guilty) and Kuribayashi's debut song, "Rumbling Hearts."
After the collaboration, GRANRODEO performed the two final songs of the concert: "modern strange cowboy" and the IGPX opening theme "Go For It!," during which fans yelled the word IGPX.
As an encore, all of the performers sang the theme song of the Lantis Festival, "Starting STYLE!!"
After the concert ended, the staff suggested that fans not forget to purchase official event merchandise. Here's a peek at some of the goods:

The Lantis Ani-Song World Tour will be held in 2015 in multiple locations around the world, including Las Vegas, USA, Singapore, Seoul, South Korea, Hong Kong, China, and Taipei, Taiwan.
---
discuss this in the forum (3 posts)
|
this article has been modified since it was originally posted; see change history