×
remind me tomorrow
remind me next week
never remind me
Subscribe to the ANN Newsletter • Wake up every Sunday to a curated list of ANN's most interesting posts of the week.
read more
Anime Expo 2018 News Roundup: Day Zero, One, Two Headlines

Anime Expo 2018: XOGenaSYS Pilot Premiere Report

by Nikki Flores,
As attendees entered quickly into the small theater at Anime Expo this weekend, the air was abuzz with anticipation. Many of those waiting in line were already avid fans of the company Johnny O'Bryant founded four years ago. Noir Caesar is a passion project with a focus on highlighting cultures that are not normally featured within the manga and anime medium, and it all started when O'Bryant used to watch Toonami as a kid. He grew up with Yū Yū Hakusho and was fascinated by Japanese culture, but wished he could share this with boys in Japan. His well-known career as an NBA star helped O'Bryant use his platform to give birth to a new kind of company within the industry.

Since their debut, Noir Caesar has published 11 different comic series. Animation studio, D'Art Shtajio, based in Japan, teamed up with the publisher and creative agency to create the pilot episode of XOGenaSYS. Noir Caesar plans to create more manga and collaborate to create more animated features in the future, but has no specific timeline. They are taking their time to make sure everything is done right.
XOGeneSYS is originally a comic available to read on Noir Caesar's website with five chapters currently available for purchase. The story is created by Johnny O'Bryant, written by Tre McIntosh, and drawn by Nikolas Draper-Ivey. The main character, Darius, is fascinated by professional fighters competing in XOGeneSYS, a popular sports league. Those fighting wear suits with advanced technology, allowing them to execute high-powered moves that would otherwise be impossible to accomplish. The suits serve as inspiration for Darius' artwork, but his hobby becomes a concern to his mother who wishes he would buckle down and focus on his grades. Trouble rears its ugly head before too long and Darius becomes involved with a street scuffle. His face is caught on a security camera which forces him to transfer schools.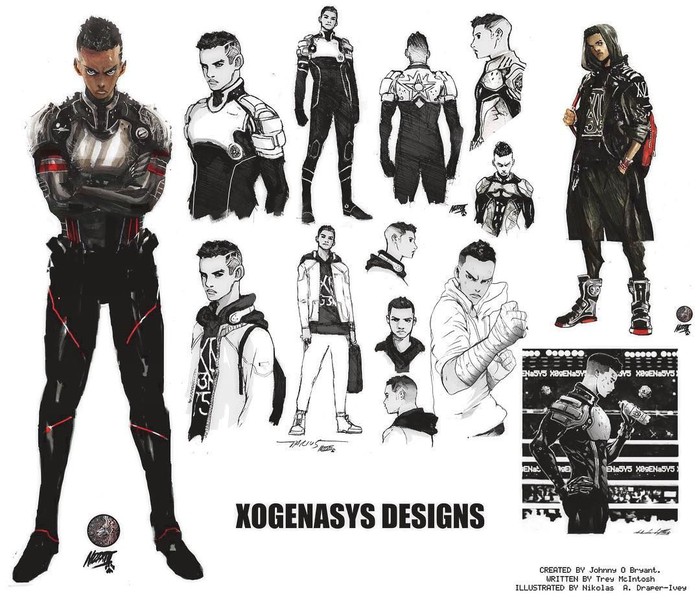 While Darius is undoubtedly the main character of this pilot episode, it was honestly the little sister who stole the show. Her personality was bubbly, but not overbearing. It was clear that Darius adored her. The audience reacted to her antics with cries of "awww" whenever she took the spotlight.
For a brand new animation house, XOGenaSYS is certainly impressive and does well to highlight stories that have not been told before. While the pilot episode will remain an Anime Expo exclusive for now, Jacqueline-Elizabeth "Jax" Cottrell, their entertainment manager, revealed that Noir Caesar's goal is to have XOGenaSYS fully animated and eventually work to get all of the company's comic titles animated. The company is also open to working with streaming sites like Crunchyroll and Netflix to see their vision come to life. For now,XOGenaSYS is available to read on Noir Caesar's site for $1.25 per chapter or a monthly subscription fee of $4.99.
---
discuss this in the forum (43 posts)
|
this article has been modified since it was originally posted; see change history
back to Anime Expo 2018 News Roundup: Day Zero, One, Two Headlines
Convention homepage / archives