×
remind me tomorrow
remind me next week
never remind me
Subscribe to the ANN Newsletter • Wake up every Sunday to a curated list of ANN's most interesting posts of the week.
read more
Madoka Magica: Rebellion US Premiere
by Bamboo Dong,


The North American premiere of Puella Magi Madoka Magica movie: Rebellion was held on December 3 at the Egyptian Theater in Los Angeles. Hosted by Aniplex USA, the premiere featured cosplayers, who handed out goodie bags filled with special Madoka Magica swag, like programs from the Japanese theatrical release, special artwork cards drawn by the Magica Quartet, and Kyubey smartphone stands.
In attendance was producer Atsuhiro Iwakami and Studio SHAFT president Mitsutoshi Kubota, who delivered a special greeting to the packed theater before the movie.

Iwakami: My name is Iwakami from Aniplex. I am the producer for Madoka Magica. I am so grateful that so many people came to see the premiere of the latest Madoka Magica movies. Thank you very much.
Kubota: Hello my name is Kubota. I am the president of the production company, Studio Shaft. I came from Japan. I am very grateful that so many people came to see this movie. Please enjoy the movie.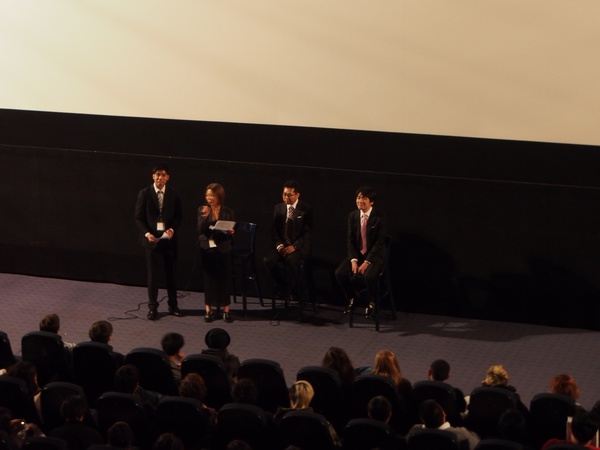 Afterward, Iwakami and Kubota were on hand for a question and answer session, mediated by "Aniplex Guy" E.J. Rivera.
With a successful TV series, how did the Madoka Magica movies start?
Iwakami: After the previous series was over, I talked to many people like Kubota from SHAFT and many other people. We wanted to do something using this Madoka Magica world. Mr. (Akiyuki) Shinbo, the supervising director for the movie, was also the director for the TV series. He mentioned he wanted to make a movie using the five magical girls again. Mr. (Gen) Urobuchi, the writer, turned in a very interesting scenario. That's why we made the movies.
This is the original plot that Gen Urobuchi submitted. As you can see, the first half of the movie has very bright and happy scenes, and then in the second half, it becomes dark. Because of that, we thought it would work better as a movie instead of a TV series.
Speaking of Mr. Urobuchi, what did you think when you read the first scenario for Rebellion?
Kubota: At the beginning, Mr. Urobuchi and Mr. Shinbo wanted to make the five magical girls fight together again. That was their hope, and that's what they requested. As you can remember from the TV series, some of the girls… "retired." So I was curious how they would be revived again, and fight again with all of the girls from the series. I was very genuinely interested in what was going to happen in the movie.
For the movie title, how did you decide on the title Rebellion? Were there any other ideas?
Iwakami: The word "Rebellion" itself, we decided by committee, with the Madoka Quartet. It was originally submitted by Mr. Urobuchi. That's why we called it that. In English, it's just Rebellion, but the Japanese title is The Story of Rebellion. The first movie is The Story of Beginning, and the second movie is The Story of Eternity. That's why we decided to call it Story of Rebellion. Each of you guys may have a different idea whose rebellion it is. Perhaps Homura, with her fate. But when I saw the ending of the movie, I thought maybe it was a rebellion of Kyubey as well.
What were some of the challenges in making Rebellion? Were there any scenes that required extra effort?
Kubota: First of all, it's been two years since the scenario was decided. Also, there is a lot of volume—there was a tremendous amount of volume to work with. It's a two-hour movie, but we made it using 2,300 shots, way more than a regular animated movie. Also this movie is made for the big screen, so the picture size is pretty big compared to a TV series. Also, the information in the movie is very fast; there is a lot of information. So that was one of the challenging things. Even with the tremendous volume, in addition to that, the main creators kept adding scenes, like "how about this?" and "how about that?" It added up to an even more tremendous amount. In order to control them and the production, Mr. (Yukihiro) Miyamoto, the director, and Mr. Shinbo, the supervising director, did a great job. When I saw everyone working so hard, I was really proud of my staff. To make a movie with such a wonderful quality, I'm so proud of them.
What is your favorite scene from the movie?
Iwakami: There are so many scenes, and I'm always asked, but it's so hard to pick. Like Kubota said, there are 2,300 shots in this movie, which is double the size of a normal movie, but each scene still has a high quality. Also, storywise, it's not a simple movie. You can't just say, "Oh, this was good." You can't really tell if it's a happy ending, or a tragedy, or what. In that sense, I feel it's a really great movie.
Kubota: As a production company, we worked so hard for each single scene that it's hard to pick just one. However, I like the close-range gun fight with Mami and Homura. Every time I see it, I'm enchanted.
For Mr. Iwakami, given the Madoka series, do you consider this ending to be a happy one or a tragic one?
Iwakami: Like I said earlier, this could be a happy ending or a sad ending; it depends on each individual audience. But again, it's not a simple story. Rather, after the movie, you want to talk with a friend about it. I myself think this is more of a happy end than a tragic one. I guess the question is, who do you think has the happy ending?
For Mr. Kubota, SHAFT also created Hidamari Sketch, Goodbye Zetsubo-Sensei, Arakawa Under the Bridge, and the Monogatari series, including Bakemonogatari. What do you think of the Madoka series, for Studio SHAFT?
Kubota: For SHAFT, the Madoka Magica TV series was the first original anime in a long time, and of course, it was the first original series where we worked with Mr. Iwakami and Mr. Shinbo. Because it was an original animatino, at first I was scared. What if we made a mistake? What if things happened? However, after Madoka Magica aired, it was successful and grew into a movie series, including the movie we just watched, so I really feel comfortable and more confident in making original animations. The Madoka Magica series really encouraged me. We hope to make more original animation in the future, although I don't know if we can compete with the Madoka series. Thank you very much for your support.
Are you working on any new animations now?
Are you familiar with the Monogatari series? We've been making the second season of Monogatari, at the same time as Kizumonogatari. At the same time, we are also working on a new series called Nisekoi, which is published in Shonen Jump. That's supposed to air in January. We're also working on a new title called Mekaku City Actors. I know you like Kizumonogatari, but please wait for our new titles too.
Mr. Iwakami, what were your experiences like working with SHAFT?
Iwakami: We worked with SHAFT for the Madoka Magica series, and Monogatari, and Mekaku City Actors. I really feel like SHAFT is the studio for us. I always thank each of the staff members from SHAFT. They never compromise, and never say, "this must be good enough." Each of them always work hard, and always ask, "how can we make it better?" Mr. Kubota is the leader of the SHAFT team, so we're very happy and honored to come to America with Mr. Kubota.
After Rebellion, do you have any plans for the Madoka franchise in the future?
Iwakami: No, we don't have any plans. The world of Madoka is great, and I love all the characters, so personally, if we have a great plot scenario, I personally would love to make something else Madoka. But at this point, as of right now, we don't have any official plans.
What are your thoughts about the Madoka movie being submitted for the Academy Awards?
Iwakami: Just being submitted for the Academy Awards, my heart is filled. I am so happy we submitted a film to the Academy Awards.
Do you have any final messages for your fans?
Kubota: Thank you for watching until the very last scene. Before the movie started, I was worried if anyone would react. When you guys reacted, I was so happy. When I go back to Japan, I'm going to tell Mr. Shinbo. Thank you very much.
Iwakami: This is the very first time for the both of us to wear suits since attending somebody's wedding. By the way, my tie color is Madoka, and Mr. Kubota's tie color is Homura. I'm really glad that I brought my suit, and I'm so glad to be here with Mr. Kubota. Since the theatrical opening in regular theaters is this weekend, we hope you will watch the movie again. In Japan, many fans have gone again and again, an every time, they see something new. If you have a chance, please go see it again. Thank you very much.
---
discuss this in the forum (216 posts)
|