Interest

Glass Mask Poster Celebrity Revealed as Dave Spector

posted on

2011-07-25

20:15 EDT by Crystalyn Hodgkins
Chicago-born commentator and producer portrayed character Masumi Hayami in poster contest
---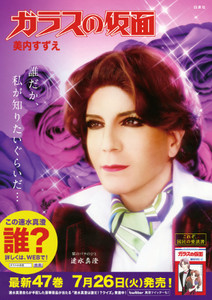 The 47th volume of Suzue Miuchi's Glass Mask (Glass no Kamen) shōjo romance epic, which hit bookstores on Tuesday, revealed the answer to Hakusensha's "Who is Masumi Hayami? Quiz" poster contest held to commemorate the book's release. The anonymous celebrity dressed as the character Masumi Hayami was Chicago-born commentator and producer Dave Spector (pictured far right).
The Masumi Hayami poster (pictured at right) was posted in bookstores across Japan, and in 15 stations along the Yamate line in Tokyo, from July 18-24. Fans could make guesses as to who the celebrity was at the manga's official website. The winner of the contest, chosen via lottery from those who made a correct guess, will receive a one-night stay for two in a special suite in the Tokyo Prince Hotel, along with an autographed present from Spector. Between August 1 and September 30, that suite at the Tokyo Prince Hotel will be redecorated to replicate Masumi's office and bedroom. The hotel will also will host a Glass Mask fair in its tea salon and bar.
Spector has appeared on such shows as Tokudane!, Sunday Japon, and the American version of Iron Chef. He also appeared in a minor role in the live-action 20th Century Boys 1 - Beginning of the End film. Spector also sometimes co-hosts the English-language Japanese music program J-Melo on NHK.
In the September issue of Bessatsu Hana to Yume, also released on Tuesday, Miuchi resumed serialization of Glass Mask. The issue also includes a "Masumi Hayami x Dave Spector Collaboration" appendix, and the cover of the issue features an illustration of Masumi.
Miuchi began the story about an aspiring actress, her lifelong rival, and her suitors in Hakusensha's main Hana to Yume magazine back in the beginning of 1976. Miuchi had acknowledged in 2009 that she felt that the time has come to bring Glass Mask to an end "soon."
The manga inspired a 1984 television series and a 2005-2006 television remake. There was also a three-part video series that started in 1998.
Source: Comic Natalie
---
follow-up of
Glass Mask Contest: Guess the Celebrity on the Poster