Interest

Aikatsu! Idol Card TV Anime's Cast, Staff Announced

posted on by Egan Loo
---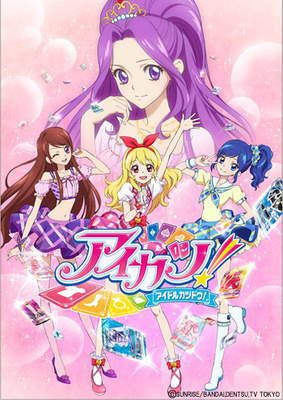 Sunrise announced the cast and staff for its anime adaptation of Bandai's Aikatsu! idol card game on Friday. Ryuichi Kimura, an assistant director on Natsuiro Kiseki and Hanamaru Kindergarten, is directing the anime, while the director on those two projects, Seiji Mizushima (Mobile Suit Gundam 00, Fullmetal Alchemist, Un-Go), is "supervising" the new production. Yoichi Kato (Miracle Train - Ōedo-sen e Yōkoso) is in charge of the scripts, and Hiroko Yaguchi (Un-Go) is designing the characters.
The cast includes Sumire Morohoshi (Fullmetal Alchemist's Nina Tucker, Princess Jellyfish's Kurara, Final Fantasy XIII-2's Moogle) as the heroine Ichigo Hoshimiya, Azusa Tadokoro (HoriPro's first voice actress contest winner) as Ichigo's close childhood friend Aoi Kiriya, Ayaka Ohashi (Eureka 7: Astral Ocean's Fleur Blanc, HoriPro contest finalist) as Ichigo's classmater Ran Shibuki, and Minako Kotobuki (K-ON!'s Tsumugi) as the current top idol Mitsuki Kanzaki. The company Monaca is producing the music.
In the card game, players use collectible clothing cards to help their idols pass auditions in pursuit of becoming the top national idol singer.
[Via Ota-suke]
Image © Sunrise/Bandai, Dentsu, TV Tokyo
Update: More information added.
---