Interest

New Year's Greetings — Anime Style (Part II)

posted on by Egan Loo
Greetings from AnoHana, August, Blast of Tempest, Blue Exorcist, Bushiroad
---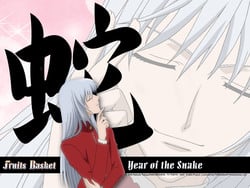 For generations, people in Japan have celebrated New Year's Day by sending specially designed cards — nengajō — to each other. As part of the tradition, postal workers store all the nengajō that are mailed in the final weeks of the old year, and then deliver every single one on New Year's Day. Many nengajō mark the Chinese Zodiac by depicting the animal of the year. (In 2013, that animal is the snake.) Here are some New Year's greetings from the folks that will be bringing you anime, manga, and games in the new year.
Click on the thumbnail images to see the original greetings!

AnoHana

"Happy New Year"

The official
website
for the upcoming AnoHana film posted the Shrine version of its advance tickets. There are also Christmas and night festival versions.
August Soft (A Good Librarian Like a Good Shepherd)

August Soft is offering a wallpaper for iPhone and Android mobile devices
Blast of Tempest

The official website for Blast of Tempest has been counting down to New Year's Day.
Blue Exorcist Movie

The cast of Kakko-Kawaii Sengen! hijacks the website with Flash animation
Bushiroad

Happy New Year
There are many more anime/manga/game nengajō out there, so if you know of one we've missed, feel free to let us know in our forums or by email (newsroom at animenewsnetwork.com). Akemashite Omedetō Gozaimasu!
(Here are 2012's greetings, 2011's greetings, 2010's greetings, 2009's greetings and 2008's greetings!)
Fruits Basket image © 2004 Natsuki Takaya/HAKUSENSHA • TV TOKYO • NAS • Fruba Project. Licensed by FUNimation® Productions, Ltd.
---
This article has a follow-up:
New Year's Greetings — Anime Style (Part III)
(2013-01-01 09:00)
follow-up of
New Year's Greetings — Anime Style (Part I)