Interest

Yumi Hara, Ayahi Takagaki, Marina Inoue Join Log Horizon Cast

posted on by Rae First
Misaki Kuno, Ryota Ohsaka, Shōhei Kajikawa, others in Fall anime set in fantasy online game
---

The official NHK site for the Fall anime Log Horizon listed more of the voice cast on Monday:
Yumi Hara as Marielle
Ayahi Takagaki as Henrietta
Misaki Kuno as Serara
Ryota Ohsaka as Shōryū
Shōhei Kajikawa as Hien
Sora Amamiya as Liliana
Kanami Satou as Ashlynn
Taishi Murata as Aizel
Minami Takahashi as Asuka
Takahiro Sakurai as Crusty
Hiro Shimono as Sōjirō
Hiroki Gotou as Michitaka
Nobuhiko Okamoto as Karashin
Satoshi Hino as Isaac
Masakazu Nishida as Eins
Yūichi Nakamura as William Massachusetts
Masaki Terasoma as Roderick
Hiroshi Shirokuma as Woodstock W
Cho as Akaneya Ichimonjinosuke
Marina Inoue as Kanami
Previously announced cast includes:
Takuma Terashima (Dantalion in Makai Ouji: Devils and Realist) as Shiroe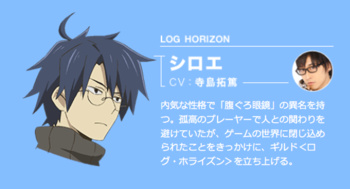 Emiri Katō (Hideyoshi Kinoshita in Baka and Test - Summon the Beasts) as Akatsuki

Tomoaki Maeno (Yukina Ko in Sekaiichi Hatsukoi) as Naotsugu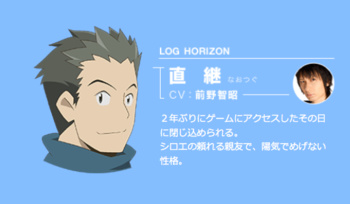 Jouji Nakata (Kirie Kotomine in Fate/Zero) as Nyanta

Daiki Yamashita (Rekka Shirogane in Gaist Crusher) as Tōya

Nao Tamura (Ayuko Uehara in Aiura) as Minori

Tetsuya Kakihara (Camio in Makai Ouji: Devils and Realist) as Lundellhaus

Eriko Matsui as Isuzu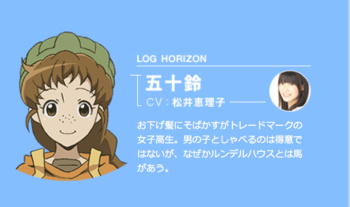 The story begins when 30,000 Japanese gamers are trapped in the fantasy online game world Elder Tale. What was once a "sword-and-sorcery world" is now the "real world." The main lead Shiroe attempts to survive with his old friend Naotsugu and the beautiful assassin Akatsuki.
The anime studio Satelight is producing the planned 25-episode series for airing on the public broadcaster NHK's E-Tele channel. Shinji Ishihira is directing the anime, and Toshizo Nemoto is charge of the series scripts. The anime will premiere on October 5.
Touno debuted his novel on the user-generated content site Shōsetsuka ni Narō in 2010. Motoya Matsu then launched his Log Horizon Gaiden Honey Moon Logs manga adaptation in ASCII Media Works' Monthly Comic Deneaki Daioh magazine last year. Kazuhiro Hara began serializing the main manga adaptation on Enterbrain's Famitsu Comic Clear website last year, and Koyuki began drawing another manga called Log Horizon ~Nishikaze no Ryodan~ in Fujimi Shobo's Age Premium website last year also.
[Via Yaraon]
---