Interest

Mr. Osomatsu Baseball Art, Merch Revealed

posted on

2016-02-20

17:45 EST by Eric Stimson
Also: Chiba Lotte Marines collaborate with
WataMote
---
On March 5 and 6, the Japanese national baseball team will play warm-up matches against Chinese Taipei (the Republic of China) at Nagoya Dome and Kyōcera Dome in Osaka. 300 seats at these stadiums have been allocated to Mr. Osomatsu fans.
The seats are already sold out, but Matsuno fans can still enjoy these images of the anime's characters in baseball uniforms. Mr. Osomatsu merchandise is also available for sale at the Samurai Japan baseball team website.

Clear files (500 yen/$4.39 for a set of two)


Badges (600 yen/$5.27 per set)


Washcloth (1,000 yen/$8.78)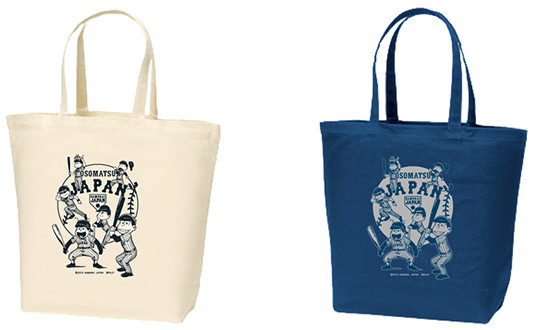 Tote bags (1,650 yen/$14.50)


T-shirt (3,600 yen/$31.60)


Hoodie (6,800 yen/$60)
The following goods are only available until February 29 and will be delivered in late April.

T-shirts (3,600 yen each)


Socks (1,000 yen each)
The following goods will only be available at the games.

Trading badges (5,616 yen/$49.33 for a box set)


Acrylic key chains (1,296 yen/$11.38 for a box set)
Meanwhile, the Chiba Lotte Marines have announced a crossover promotion with an unlikely anime/manga: WATAMOTE. The sleep-deprived, anti-social protagonist, Tomoko, has even slammed baseball in the manga since the players are full of themselves, smoke too much, and are "Yankees" (hoodlums). In the spin-off manga, she even dissed the Lotte Marines themselves. However, the manga artist, Nico Tanigawa, is suspected of being a Lotte Marines fan (the names of current and former players appear suspiciously frequently among Tomoko's class roster), and Tomoko's voice actress, Izumi Kitta, once was a cheerleader for the Lotte Marines.
"Is this really a good idea?"
The collaboration will promote the games against the Saitama Seibu Lions on April 8, 9 and 10. Tickets will go on sale early in March. Tie-in merchandise will also be available.
The Chiba Lotte Marines are no stranger to long-named anime tie-ins: They have previously collaborated with Oreimo and My Teen Romantic Comedy SNAFU TOO!.
[Via Man Tan Web, Kai-You, Chiba Lotte Marines official website, My Game News Flash and Rocket News 24]
---