Interest

T.M. Revolution Reveals Comiket T-Shirts, Dōjinshi

posted on by Amanda Whalen
Singer and actor actually shows up at his booth
---
Singer and actor T.M.Revolution announced details for the merchandise sold at his booth at the 90th Comiket dōjinshi convention, held at the Tokyo Big Sight from August 12-14.

The booth is selling a T.M.Revolution dōjinshi and t-shirts modeled after the outfit worn by T.M.Revolution in the video for his 1998 single "Hot Limit" that come with a black wristband. The t-shirts are priced at 4,500 yen (about US $44.16), and the dōjinshi are 500 yen (about US $4.91).
The dōjinshi is titled, "Doki! HOT LIMIT Darake no Usui Hon '16 Summer," and its staff includes Annindōfu (The [email protected] (TV)), Noizi Ito (The Melancholy of Haruhi Suzumiya), Atsushi Ohkubo (Soul Eater), Kaishaku (Steel Angel Kurumi), Yone Kazuki (Hakuoki: Demon of the Fleeting Blossom), Aya Shouoto (The Demon Prince of Momochi House), Sushio (Berserk), Arina Tanemura (Neko to Watashi no Kinyōbi), and several others.
The booth is also giving away free fans that feature T.M. Revolution as an anime character.
コミケ準備なう。1日目西a-56「T年M組&レボ八先生」で遂に貴教サークルでコミケ念願の初参加でございます!午前中には僕も皆さんと同じく参加者として登場予定!当日は熱中症に気を付けて、スタッフさんの指示に従い最後まで楽しみましょう! pic.twitter.com/5P7jufHMCE

— 西川貴教 (@TMR15) August 10, 2016
In his tweet above, the singer implied that he will appear in person at the convention, saying "In the morning, I plan to appear as a participant just like everyone else."
He made good on his promise, appearing with an entourage wearing bright orange shirts with the same design. The tight security isn't exactly how "everyone else" rolls into Comiket.
August 12, 2016
T.M.Revolution reserved his two adjoining booths in the West Exhibition Hall back in June under the title, "T-nen M-gumi Revo Hachi-sensei" (Year T, Group M, Mr. Hachi Revo). This is his first Comiket appearance.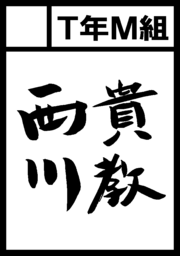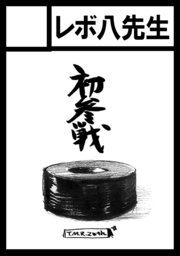 T.M.Revolution is currently working as the executive producer of the male idol show B-Project: Kodō Ambitious, which began airing in July, even making a brief cameo appearance.
He has performed theme songs for Soul Eater, Mobile Suit Gundam Seed, D.Gray-man, Rurouni Kenshin, and the currently airing puppet series Thunderbolt Fantasy. He also sings his hit single "Hot Limit" as an ending song for the currently airing anime ReLIFE.
[Via: Hachima Kikou]
---