Interest

Create Your Own Case Closed Character on Face Maker Website

posted on by Eric Stimson
---
Gosho Aoyama (Case Closed, Yaiba, Magic Kaito) has sold 200 million volumes of manga worldwide. Most of these are of his signature series, Case Closed, which is sold in 25 countries and has become one of the most well-known and popular manga. To celebrate the achievement, Aoyama has started a campaign to design witness characters for an upcoming mystery. The character designers will be whomever creates the most interesting faces on this website, which lets fans design a character in Aoyama's distinctive style with the click of a mouse.

Users can choose from a variety of face shapes, haircuts, eyes, eyebrows, noses, mouths, eyeglasses, and hats. Elements can be resized and shifted around the face too. There are over 138 billion possible different combinations. When users are done, they come up with a name, gender and age and send it off for consideration. The April 26 issue of Weekly Shonen Sunday also carries a password that can be entered to access parts of "that phantom thief (kaitō)."

Aoyama's sales achievement is also trumpeted by this ad in Yomiuri Shimbun's April 26 morning edition. The artist is quoted within as calling the incident a "crime" with "all the readers" as culprits. In addition, the rough drafts of several chapters from the latest Case Closed manga (volume 92) are available for perusal on Shonen Sunday's Sunday Web Every!!! site.
Case Closed has been in the limelight recently due to the release of the 21st film, Detective Conan: The Crimson Love Letter. It will receive a new real escape game and has a temporary "pop-up" store open near Suidōbashi, Tokyo as well as a collaboration with Monster Hunter XX.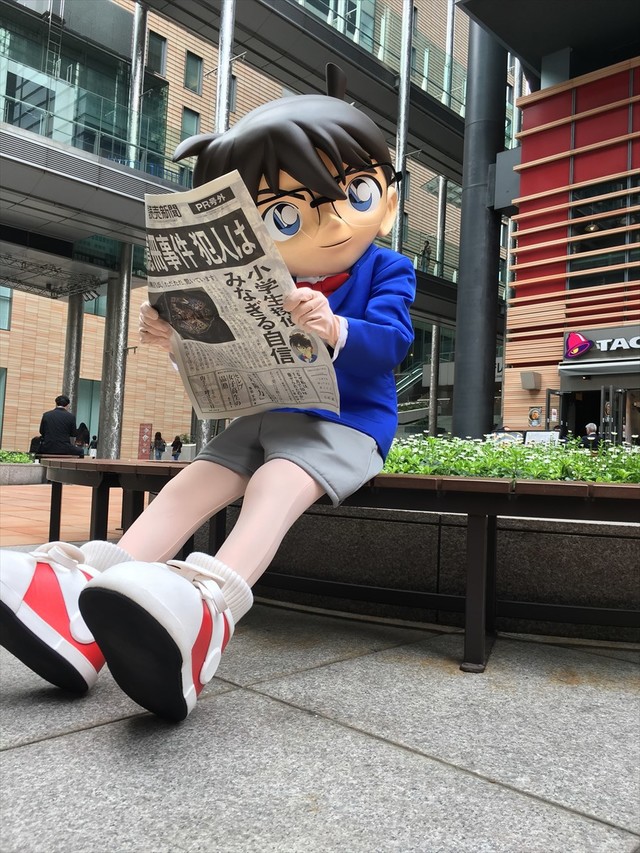 Source: Comic Natalie
---