×
remind me tomorrow
remind me next week
never remind me
Subscribe to the ANN Newsletter • Wake up every Sunday to a curated list of ANN's most interesting posts of the week.
read more
Interest

C93: The Corporate Booths Reveal How Anime is Now Mainstream

posted on by Kim Morrissy
Comiket began with the grassroots fan activities of the 1970s, but the days without corporate presence are now long gone. I'm sure that there are some people who bemoan Comiket's lack of purity these days, but it's well worth thinking about the changing nature of corporatism and how that shapes modern anime culture. Look no further than the corporate booths at Winter Comiket 2017 (C93) to get a sense of the changing times.

Anime has become mainstream in Japan. It's not merely the case that ads for anime merchandise can be seen everywhere in Tokyo. Companies have realized that anime fans have purchasing power that can be exploited beyond anime goods. This is reflected in the kinds of goods you can buy these days, many of which can serve a practical purpose (like mugs and clear files) or function as chic fashion items (glasses, jewelry, etc.).
Aside from the usual merch booths from specialized anime stores and production studios, you'll also find booths set up at Comiket by companies that don't have any surface-level connection to anime. My favorite example of this is Kaspersky Lab, the Russian multinational cybersecurity and anti-virus provider. Earlier this year, they announced a collaboration with the A Certain Magical Index franchise. All this really means is that Kaspersky Lab now sells their products with Index illustrations and branding, and they also show up at anime events with goofy promotions. For example, their green bear mascot was at the Dengeki Bunko Festival this year posing alongside a Mikoto cosplayer.
At Winter Comiket, they got even more creative. They set up a mini-shrine in their corner of the West Halls, complete with torii gates and assistants dressed up in miko outfits. This was in reference to the fact that Winter Comiket takes place just before New Year's Day, which is when many Japanese people go to the shrine to pray for good luck in the coming year. To commemorate the occasion, Kaspersky Lab even set up some omikuji, or fortune-telling strips. Instead of getting your fortune told the traditional way, the omikuji is literally a gacha machine. (This is very amusing since traditional omikuji are randomized too.)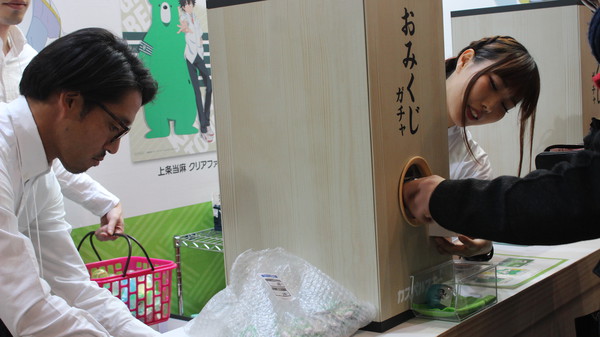 Of course, Kaspersky Lab wasn't the only company using such tactics. For example, Yuzawaya is a general craft and hobby store, but they've also been showing up at Comiket in recent years to sell cosplay outfits. Here, they're also celebrating New Year's traditional-style.

Boat Race Tamagawa, a motorboat racing stadium in Tokyo, has had a booth at Comiket since 2014, where they introduced a mascot character named Matsuri Shizunami. Once again, it's not an anime company, but the mascot character looks distinctly inspired by the Kan Colle franchise, turning marine vessels into cute girls and whatnot. Once again, Boat Race Tamagawa's was selling Comiket-exclusive t-shirts at C93.

Printing company Popls had a booth at Comiket, where they primarily sold trinkets of their mascot character. Popls is known primarily within anime fan circles as a doujinshi printer, but the company does work for self-publishers of all stripes and has a "chic" image overall.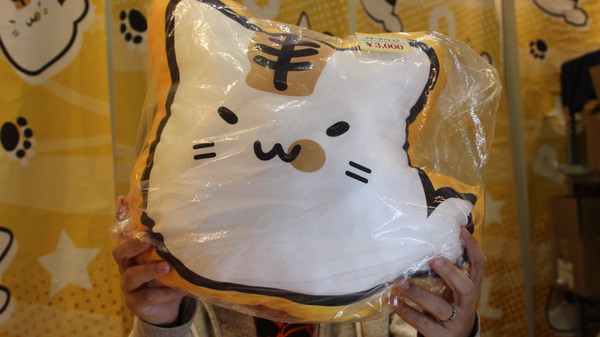 Even Magic The Gathering had a booth at Comiket this year! It's not anime, but it's geek enough, right?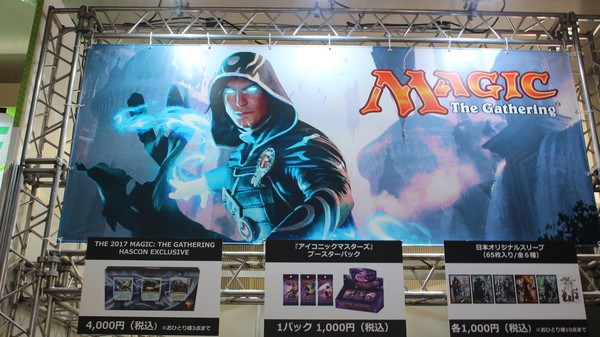 National broadcaster NHK has also been showing up at Comiket recently. Although not typically associated with late-night anime, some franchises are just so popular with all demographics that it's not out of place to see them at Comiket. Here, they're promoting Cardcaptor Sakura: Clear Card.


Another "normal" store represented at Comiket is the department store Marui. They set up a booth for the first time at last year's Winter Comiket, and they're back again this year for a Hatsune Miku collaboration.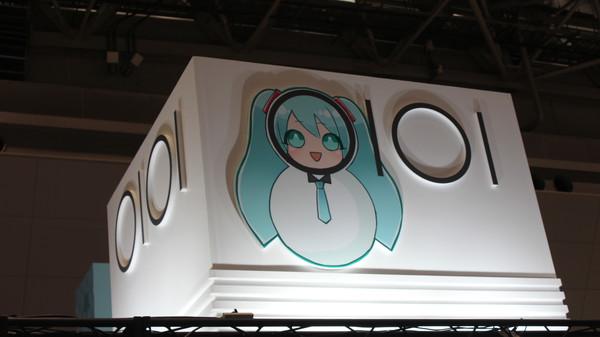 This isn't a completely random move. Marui might be a store where many fashionable young people shop at, but they also hold regular anime collaborations. For example, an upcoming collaboration involves selling Re:Zero goods at their Shibuya department store branch.
All of this is to say that being an anime fan in this day and age does not mean you sacrifice basic necessities like fashionable clothes and cybersecurity. Even late-night anime is "cool" now, and this is the reason why companies use anime collaborations to sell products aimed at the general youth culture.
Having said that, you can still see ads like these in the corporate booths: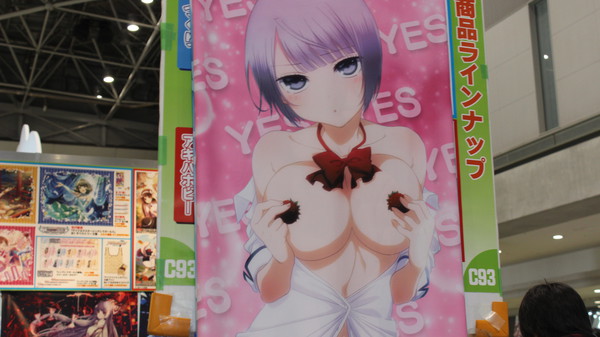 It's also still common for Japanese anime conventions to have booth babes, a practice which is largely obsolete in the US. Booth babes are less popular than cosplayers, but due to the nature of the characters being cosplayed, it often still comes across as somewhat erotic (and it's almost always girls who are cosplaying for corporate booths).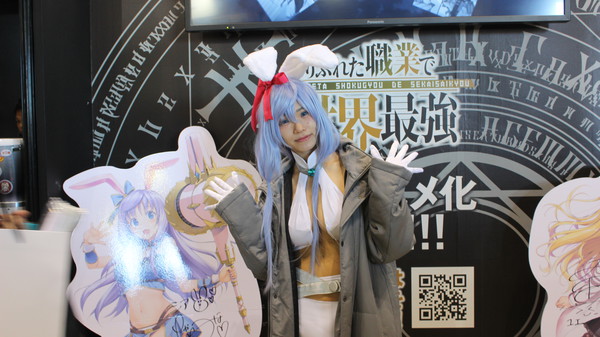 On one hand, it's not surprising to see youth culture embrace lewdness as an art. This has been part of Comiket since the beginning. On the other hand, it is worth noting what the existence of ads and products catering to the male gaze does to a convention that is otherwise popular with both men and women. Anime consumption is still largely segregated by gender; the marketing is often targeted at a specific gender and you don't often see stores with crossover appeal. The main exceptions to this are the KyoAni and ufotable booths, and this is because their catalogs include both male-targeted and female-targeted shows.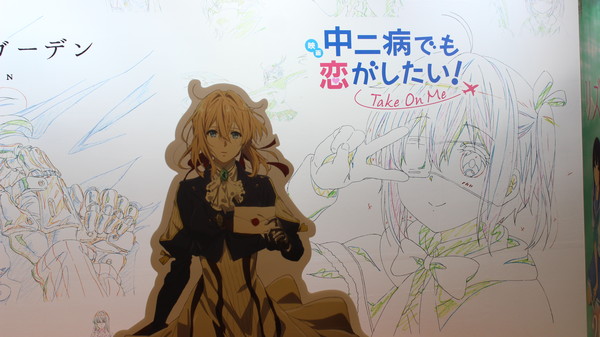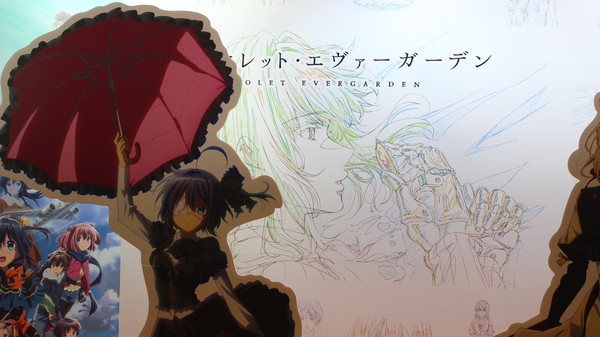 The Kyoto Animation & Do Shop were promoting Violet Evergarden and Love, Chunibyo & Other Delusions! -Take On Me- with cutouts in front of their booth, but most of the merchandise actually sold at the store was related to the Free! franchise. The same thing was true at the Kyoto Animation and Do Fan Appreciation Event.

ufotable may be known primarily for their work on the Type-Moon franchise, but Touken Ranbu (a show about hot boys in a historical setting) was also a big seller at the ufotable booth.
Comiket is a microcosm of modern Japanese anime culture in this sense. The anime media mix includes manga, games, toys, novels, and other mediums, all of which lend an incredible amount of diverse content. The vast majority of Comiket attendees will not know or care about even half of the franchises being sold to them at the corporate booths. And yet somehow all these fans of different niches end up in the same place.
This is the beauty of Comiket. Even if you aren't interested in doujinshi, you're sure to find something in the corporate booths that will appeal to your tastes. Anime has become mainstream without sacrificing any of its niche appeal.
---