News

Perfect Blue on BD, Appleseed Sequel on BD & HD DVD

posted on

2007-11-26

13:37 EST by Egan Loo
Perfect Blue ships on February 22, Ex Machina ships on March 11
---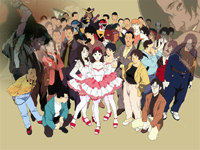 Geneon Entertainment of Japan will ship its first Blu-ray Disc release, Satoshi Kon's Perfect Blue psychological thriller, on February 22. A regular edition will sell for 5,800 yen (about US$53.57), while the limited initial edition will sell for 8,800 yen (US$81.28). Japanese Blu-ray Discs can play on North American players and vice-versa.
Warner Home Video has announced that it will release Appleseed: Ex Machina, the sequel to the movie based on Masamune Shirow's cybertech manga, on Blu-ray Disc and hybrid DVD/HD DVD formats on March 11 in North America. Both versions will retail for US$34.98.
Source: AV Watch via Anime on DVD
---
discuss this in the forum (13 posts)
|
bookmark/share with:
RightStuf - Anime, Manga and More
Heidi steels herself for Senran Kagura on Switch, Yu-Gi-Oh showing up in Jump Force, the resurrection of Resonance of Fate, a tiny little Playstation with 20 games from your 90s childhood, and much more!
― Hey hey folks, it's Tokyo Game Show week! Yeehaw! I wanted to supplement this week's column with a mini-review of Senran Kagura Reflexions on Switch, but, uh, I'm not sure it even really deserves t...
The thrilling third season of Haikyu! is squished into a 90-minute film with some absolutely gorgeous Production I.G animation, but does the story survive the transition? Lynzee Loveridge tapes up her hands and gets on the court.
― As a compilation film, Haikyu!! The Movie: Battle of Concepts compresses the 10-episode third season of the Haikyu!! anime series into a tight 90 minute film and cuts much...
Catch up on all the news and videos from this year's biggest event for Japanese games all in one place!
― Here's our roundup of all news, trailers, and gameplay videos from Japanese developers at this year's Tokyo Game Show event. We'll be updating this article continually, so be sure to check back for content added throughout the event. Tokyo Game Show runs from September 20-23. Thursday, September...
Sword Art Online returns this fall for its big third season, and if you're a little behind on the adventures of Kirito and friends, here's a handy guide to the franchise so far.
― Whether you love the series or not, the Sword Art Online franchise nonetheless ranks among the most successful of the 2010s. As of September 2018, its anime branch consists of two core anime series totaling 49 episodes, a s...
"Standard Definition Blu-ray" means you're getting a LOT of anime on a single disc - but not in HD quality. Justin Sevakis discusses exactly how - and why - a show might get released in this format.
― Jeff asked: My question gets a little technical but I was reading over the Skip Beat kickstarter campaign recently and I saw a statement from Pied Piper where you said Skip Beat was perfect candidate f...
"The Eccentric Master and the Fake Lover has some issues that might turn a reader off, but it is making an effort to be a fun fantasy and a slightly dangerous romance, both of which can be very appealing genres."
― If descriptions of messy kisses with lots of swapped saliva aren't your thing, this may not be the light novel for you. Vaguely reminiscent of Mysterious Girlfriend X in terms of its use o...
An interview with the director of the mind-bending cult favorite Zero Escape adventure game series, who has not one but TWO new games in development.
― An accomplished game designer with a lengthy career, Kotaro Uchikoshi is best known for his work designing the acclaimed Zero Escape games, a mind-bending, macabre adventure series that first launched with the cult hit Nine Hours, Nine Persons, Nine D...
My Hero Academia arrives on consoles and PC as a fully-featured arena brawler bursting with everyone's favorite heroes, but does it go PLUS ULTRA? Find out in our early review.
― With the current popularity of superheroes in popular culture, it's no surprise that superhero anime My Hero Academia is three seasons in and commands an ever-growing legion of loyal fans both inside and outside of Japan. Th...
The Saiyuki boys haven't been on TV since 2004, but that didn't stop them from getting a 12-episode resurrection last year, and now it's out on bluray. PLUS: all of this week's new anime DVD and bluray releases!
― I spent the weekend scrolling through a list of next season's new shows, and boy do we have some odd story setups headed our way. Dude gets resurrected as a slime in a fantasy world? Check...
Oftentimes the "remastered" version of an old anime doesn't quite look the way you remember it - why is that? Justin gets in to all the fun technical details.
― Stanley asked: I have a technical question about new film-to-Blu-Ray video transfers. I've been starting up a Blu-Ray collection recently and was looking at some comparison screenshots from a lot of classic anime titles and films to see whic...
This new Shonen Jump title from the author of Eyeshield 21 showcases compelling, pulpy adventure fun in a world where mankind has met a very dark fate.
― Riichiro Inagaki is certainly not a one-trick pony. Best known in the English-speaking world for his football series Eyeshield 21, this time he tackles science fiction with Dr. Stone, a story about restarting the world after a mysterious event froze...
In celebration of the 30th Anniversary of this classic Studio Ghibli film, GKIDS is giving away free tickets to 5 lucky ANN readers!
― Celebrate the 30th anniversary of My Neighbor Totoro, from the legendary Studio Ghibli, creators of Spirited Away and Ponyo, and Academy Award®-winning director Hayao Miyazaki. As part of this celebration, GKIDS is giving away two tickets each to five lucky ANN reade...
The passing of creator Momoko Sakura prompts Mike to dive in to the charming world and incredible impact of Sakura's masterwork, Chibi Maruko-chan.
― In Japan, the Heisei era began in 1989 when Akihito, son of the Emperor Hirohito, ascended to the throne. That era is coming to an end. Now, some might say that this is because Emperor Akihito has announced his abdication of the throne, scheduled for Ap...
The third season of Sword Art Online is right around the corner, and Aniplex of America hosted a premiere last night in Hollywood. Get all the details, photos and a full report on the first episode inside!
― On September 15th, fans lined up around the corner at the Montalban Theater in Hollywood for a glimpse of this fall's hotly-anticipated Sword Art Online: Alicization, which covers the wild fourth...