News

Perfect Blue on BD, Appleseed Sequel on BD & HD DVD

posted on

2007-11-26

13:37 EST
Perfect Blue
ships on February 22, Ex Machina ships on March 11
---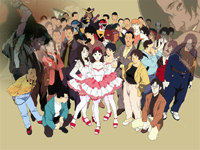 Geneon Entertainment of Japan will ship its first Blu-ray Disc release, Satoshi Kon's Perfect Blue psychological thriller, on February 22. A regular edition will sell for 5,800 yen (about US$53.57), while the limited initial edition will sell for 8,800 yen (US$81.28). Japanese Blu-ray Discs can play on North American players and vice-versa.
Warner Home Video has announced that it will release Appleseed: Ex Machina, the sequel to the movie based on Masamune Shirow's cybertech manga, on Blu-ray Disc and hybrid DVD/HD DVD formats on March 11 in North America. Both versions will retail for US$34.98.
Source: AV Watch via Anime on DVD
---
discuss this in the forum (13 posts)
|
bookmark/share with:
Heidi breaks down this week's explosion of news following The Game Awards: Street Fighter EX, new Soul Calibur, and Norman Reedus's fantastic fetus!
― THIS WEEK IN GAMES: IT'S A NEWZAPALOOZA Jeez, I expected to have a whole ton of news to write about this week, but somehow news kept on flooding in even after the Game Awards and the PSX keynote! (Which, by the way, I was totally wrong about – the Game...
This isekai story starts a cut above the rest with a focus on multiple protagonists and one very unfortunate eight-legged reincarnation. Theron Martin explains what makes this series an engrossing read.
― Isekai ("transported to another world") stories have dominated the Japanese light novel market over the past few years. This take on the concept is the second to be released recently in English in r...
Our big fall manga guide has one last surprise update, with FIVE new December manga reviews!

Available Now: One Week Friends - Graineliers -
So I'm A Spider, So What? - A Terrified Teacher At Ghoul School - Angels of Death - Shiver - Splatoon - Astra Lost in Space - Neo Parasyte M - Card Captor Sakura: Clear Card - and much more!
― Welcome to Anime News Network's Fall Manga Guide! You may have see...
They're still showing 35mm prints of Ghibli classics like Princess Mononoke in some revival theaters - but what's so special about 35mm? Justin has some thoughts.
― David asked: Hi! I've noticed that several art house theaters in the NY metro area have started showing 35mm version of Ghibli classics like Mononoke and Nausicaa. is there any real benefit to seeing these over the "regular versions" mor...
From She and Her Cat to Your Name., Anne Lauenroth ranks all of Makoto Shinkai's projects from top to bottom. What are your favorite creations by this distinctive director?
― Why do we wake up crying from a dream we've already begun to forget? Why does the feeling of loss linger after the memory of that dream has faded to a vague feeling of something that should be there but isn't? How can we long f...
Corpse Party's conclusion diverges more from the game than ever before, but disappoints as a horror story. Rebecca Silverman explains what went wrong.
― These volumes, according to creators Toshimi Shinomiya and Makoto Kedouin, are where the manga adaptation of Corpse Party: Blood Covered really diverges from its game original. By this point the cast is most cut back down to its first game characters...
Recovery of an MMO Junkie has been a wild ride, but it's finally time for Moriko and Sakurai to start a new chapter together. We speculate on the next horizon for this nerdy couple.
― Recovery of an MMO Junkie has been a wild ride, but it's finally time for Moriko and Sakurai to start a new chapter together. This week in anime, Michelle and Steve speculate what lies on the horizon for this nerdy coup...
Vice is absolutely determined to get his money's worth out of his old Kill La Kill cosplay, no matter what the cops say.
―
Magical girls get a military makeover in this dark take on the genre. Rebecca Silverman has the details.
― What do you think has been lacking from dark magical girl reboots? If you said "big ass guns and crippling PTSD," then Magical Girl Special Ops Asuka might be the series for you! While the concept of the dark magical girl story is hardly new – those who remember the final moments of the last Nur...
The C3 Anime Festival Asia Singapore holds the crown as the biggest anime festival in Asia outside of Japan. The con celebrated its 10th anniversary this year, and was attended by over 96,000 people. This year's events featured no major changes from the previous ones, but why fix what isn't broken? Notably, 2017's guest lineup included the main staff of Violet Evergarden, which was part of the con...
We frequently hear about how in Western animation, performances are often taped before animation really starts - but the opposite is apparently true in Japan. Justin gets into it.
― James asked: Some time ago, you stated that one of the major differences between western animation and Japanese animation is that, in western animation, all dialogue is recorded first, and then the animation is done to m...
Paul gets into the recent film remake of this gearhead classic, along with all this week's new anime releases!
― I really liked the ending of Recovery of an MMO Junkie this week, but now I'm starting to realize that the early finale means I'll have to get through the rest of the season without it. You know a series is good when the thought of not having new episodes to watch makes you feel a little ...
One of the most beloved shojo anime of all time comes to Blu-ray in this "sweet sixteen" special edition set! Rebecca Silverman looks back on how this heartwarming classic has held up sixteen years later.
― Back when it was first released, Fruits Basket, based on the manga of the same name by Natsuki Takaya, was a sensation. Combining elements of fantasy, slice-of-life, and reverse harem romance come...
Mike devours a few episodes of the genre-smashing French action cartoon Lastman and wonders - is this anime?
― Earlier this year I was at the Crunchyroll Expo, where I hosted a bunch of discussion panels and presented a couple of my own. The homogenous look and omnipresent Crunchyroll branding took some getting used to, but it was ultimately an energetic and well-run show, a deft mix of the stuff I l...