News

Japanese Firm Puts Enhanced Manga on Nintendo DS

posted on by Egan Loo
---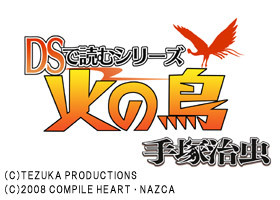 Compile Heart, a wholly owned subsidiary of Idea Factory, announced on Monday that it will release Osamu Tezuka's Phoenix manga as an enhanced digital comic on a memory card for the Nintendo DS portable game console in Japan. DS de Yomu Series Tezuka Osamu Hi no Tori (Reading on the DS Series: Osamu Tezuka's Phoenix) will allow users to read the "God of Manga's" classic science fiction magnum opus on DS screens. It is scheduled to go on sale in May of 2008 for 4,179 yen (about US$37.39). Viz Media is releasing Phoenix in print form in North America.
One of Compile Heart's manga memory cards will contain the equivalent of four to five print volumes of manga. The software will use the double screens of the DS for what Idea Factory says will be "intuitive" reading, similar to a regular book. In addition, users can tap a manga panel with the DS stylus to directly zoom onto it, or set a bookmark to save their spot in the manga. The manga will be further enhanced with sound effects and limited visual effects for crucial sequences.
Compile Heart's manga project is separate from DSvision, the project from am3 which will offer downloadable anime, manga, and other content for the Nintendo DS in an online store. Unlike DSvision, Compile Heart's Phoenix manga will come on pre-loaded cards instead of downloads. Compile Heart is planning more volumes of other manga for its Reading on the DS series.
Source: Siliconera via MangaBlog
---