News

Cyborg 009 Manga Avatars in PC-Based Street Fighter

posted on

2008-07-22

05:07 EDT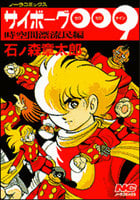 The Japanese software developer Daletto has announced that its upcoming Street Fighter Online: Mouse Generation fighting action game will feature avatars based on Shotaro Ishinomori's Cyborg 009 manga when it goes live this fall. Unlike almost all other incarnations of the Street Fighter franchise, the new game will have players fighting each other by operating personal computer mice. Ishinomori began drawing his Cyborg 009 science fiction adventure manga in 1967, and it has since been adapted into several anime movies and television series. In North America, Tokyopop released 10 volumes of the manga, and Sony Pictures Home Entertainment released the 2001-2003 television series remake.
---
discuss this in the forum (1 post)
|
bookmark/share with:
back to Daily Briefs
News homepage / archives
RightStuf - Anime, Manga and More
Paul discovers a hidden gem in a surprisingly lazy package with this lovely slice-of-life comedy. Plus, all this week's new anime releases and a brand-new Shelf Obsessed!
― I've been working on putting together a Star Wars model kit recently, and holy heck that process is easier if you have a decent set of the appropriate tools. It's almost a relaxing experience when you don't have to threaten each ...
This attempt at a gritty action spectacle falls prey to confusing storytelling and baffling editing. Theron Martin examines what went wrong.
― In the Summer 2016 Preview Guide, I gave the first episode of this manga adaptation a middling score, saying that it isn't without potential. Rarely have I looked back at a review and been more perplexed at what I wrote, as on a second view that first episode ...
There sure are a lot of gambling anime, but what's it actually like to gamble in Japan? Does anime paint an accurate picture? Justin gets into it.
― Jake asked: I have recently been watching Kakegurui Compulsive Gambler on Netflix and it has me curious about gambling in Japan. Gambling is in a ton of anime from Samurai Champloo to Kaiji. Mostly I am familiar with the basic odd even dice game as well...
Mike digs into the legendary and idiosyncratic career of Ryousuke Takahashi, from Cyborg 009 to Armored Trooper Votoms to Phoenix.
― A few weeks back, the Right Stuf folks were running some sort of cheap-o blowout sale, and one of the items for sale, along with a still-absurdly-large quantity of Geneon and ADV Films DVD backstock, was this hat. Yep, for just one dollar, you could be the proud owner o...
This adaptation makes great use of its difficult source material to tell a trapped-in-a-game/escape room story worth digging into. Rebecca Silverman explains why.
― If you've played the original game of Ao Oni ("blue demon") or watched the series of anime shorts, Kenji Kuroda's novelization may come as a surprise. That's not a bad thing, though – Kuroda's reimagining of the source material not only c...
If it weren't for their physical resemblance, you'd never know these troublesome twins were related! This week's list is all about twins who are far more different than alike.
― This week's list is a rerun, but check back next week for a brand new list! Twins remain a topic that entertainment loves to revisit. Genetically identical people are used in horror to highlight fears of lack of individual i...
This manga's take on age gap romance is slightly more self-aware than its peers, delivering an interesting and complex premise. Rebecca Silverman has the details.
― At first glance, Takane & Hana looks like any one of a number of vaguely problematic shoujo romances. It features a sixteen-year-old heroine and a twenty-six-year-old hero, an overbearing romantic lead, and a host of power dynamic issues....
Zac and Jacob strap on their butt handles for a fistfight with DARLING in the FRANXX ! PLUS: catching up with The Ancient Magus' Bride and much more!
― ANNCast Episode 321 - Macy's Franxxgiving Day Parade Zac and Jacob strap on their butt handles for a fistfight with Darling in the Franxx! PLUS: casting spells of codependence with The Ancient Magus Bride and much more! You can listen to the show on ...
Fate/Apocrypha's second half rolls to an exhilarating conclusion on Netflix. Kim Morrissy sums up the series' highs and lows as a Fate installment.
― It's unfortunate that the international Netflix release of Fate/Apocrypha was split into two parts. After months of waiting between the first and second cours, the second part of Fate/Apocrypha picks up right where the first part left off, sparing no ti...
There are few anime studios with history as gripping as Studio Gainax, the simultaneously exalted and notorious birthplace of Evangelion. Part I explores their humble roots, and their now-legendary debut!
― There are few stories within anime production that are as exciting as the story of Studio GAINAX. Instead of the typical story of "Mr. Producer used to work at Company X, but he wanted to produce ...
There are some anime released in the US on VHS but never in any other format - are these (and others) worth tracking down?
― Robbie asked: I recently got into collecting records, and I feel like, although it's not as handy as digital music, there's small things about just the act of listening to them that I really enjoy. I wonder, if there's any feeling you get from watching anime the old fashioned ...