News

Media Blasters Delays Voltron to March, Others to Later

posted on by Egan Loo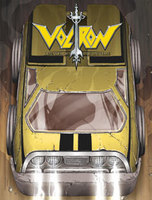 Media Blasters has notified retailers that its Voltron: Defender of the Universe DVD Set 7 release has been delayed from January 13 to March 24. Several more titles — the live-action Lone Wolf and Cub TV volume 6, Moribito - Guardian of the Spirit volume 3, Night Head Genesis volume 3, the Dojin Work volume 1 movie and manga bundle, and the standalone Dojin Work volume 1: Pencil And Paper DVD — have been delayed a few weeks after their previously announced February 28 release date. Finally, the Death Trance Blu-ray Disc release has been pushed back until May 5.
Source: AnimeOnDVD
---
back to Daily Briefs
News homepage / archives