News

Group Discusses Lucky Star Uniforms to Boost Local Tourism

posted on by Egan Loo
---

Not-So-Daily Link of the Day: The Japanese prefecture of Saitama established a Prefectural Anime Tourism Investigative Commission on Tuesday to discuss ways to boost anime-based tourism — including "changing the [local] schools' unifoms to match the uniforms of the Lucky Star characters." Takayoshi Yamamura, the Hokkaido University associate professor who wrote a paper about how the prefecture's town of Washimiya became a mecca for Lucky Star anime tourists, chairs the six-member commission. The other commission members include anime production figures and manga creators such as Sakuya Hikochi (Dr. Kuruma's Time Machine, Chichibu Cafe & Art-Culture Guide Book).
Besides the suggestion on Lucky Star uniforms, the commission also discussed the idea of "leasing a few vacant public facilities as production studios for manga creators." The commission will meet three times by next February and also exchange views over email or by other means. The members plan to present their findings next March.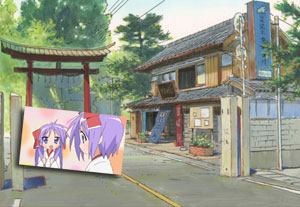 The prefecture already launched a "Saitama Chō Deep na Kankō Kyōkai" website for visiting domestic and foreign anime fans in Japanese, Simplified Chinese, and English last April. The website highlights the shrine popularized by Lucky Star, the Crayon Shin-chan amusement facility, and the forested hills that inspired My Neighbor Totoro's backdrops. An estimated 420,000 visitors came to Washimiya's Washinomiya Shrine during 2009's New Year's holidays — two to three times the number of visitors who came two years ago.
Source: Nikkei, Sankei Shimbun
Image courtesy of Cospa © Kagami Yoshimizu / Lucky Paradise 
---