News

Digital Manga, Go!, Harlequin Add Books to iPhone, Kindle

posted on by Egan Loo
---

North America's
Digital Manga Publishing
(DMP) has
posted
a list of its books that are available through
Amazon
's Kindle Store for electronic books. Kindle Books can be read on Amazon's own Kindle devices (in three different versions) and
Apple
's iPhone and iPod touch mobile devices.
DMP imprint
Hideyuki Kikuchi
's
Vampire Hunter D
Vol. 1 manga, US$7.95
Hideyuki Kikuchi's Vampire Hunter D Vol. 2 manga, US$7.95
Let's Draw Manga:
Shoujo
Characters, US$12.95
Let's Draw Manga:
Yaoi
, US$12.95
Juné imprint
Novels
Better Than a Dream
(novel), US$5.95
Gentle Cage
(novel), US$5.95
Immoral Darkness
(novel), US$5.95
Body Language
(novel), US$5.95
Like a Love Comedy
(novel), US$5.95
S
Vol. 1(novel), US$5.95
Caged Slave
(novel), US$5.95
A Promise of Romance
(novel), US$5.95
Manga
Il Gatto Sul G
Vol. 1, US$7.95
Awaken Forest
, US$7.95
Lost Boys
, US$7.95
Sugar Milk
, US$7.95
Endless Rain
, US$7.95
Love Training
, US$7.95
Party
, US$7.95
There are over 40 titles
including
Rieko Yoshihara
's
Ai no Kusabi: The Space Between
Vol. 1: Stranger
boys-love
novel, which was DMP's first offering in the Kindle Store.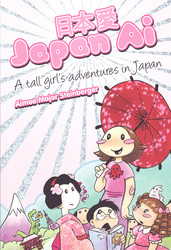 Another North American publisher,
Go! Comi
, and Zeitgeist Games have developed and
released
an application version of Aimee Major Steinberger's Japan Ai – A Tall Girl's Adventure in Japan graphic novel for Apple's iPhone and iPod touch mobile devices. The complete 190-page comic journal of Steinberger's travels in Japan is available for US$0.99 for a limited time. In addition to the same pages as the print version of the book, the application adds a voice phrase dictionary and a photo gallery. The Young Adult Library Services Association
named
this book among this year's "Top Ten Great Graphic Novels for Teens"
and
its "2009 Quick Picks for Reluctant Young Adult Readers."

The Japanese telecommunications and computer developer
SoftBank
Creative and the publisher Harlequin have
announced
that they have
launched
their Harlequin Comics Magazine as a free application for the iPhone and iPod touch. The electronic magazine is in Japanese, but it is
available
outside Japan. The first "issue" features two Japanese manga adaptations of Harlequin romance novels:
Mayu Takayama
's adaptation of Sharon Sala's
Yoru
wa Betsu no Kao novel and Hinoto Mori's manga version of Carole Mortimer's Setsunai Himitsu novel. New installments will be added next Tuesday and every Tuesday thereafter.
Harlequin had just
launched
a traditional monthy print magazine in January. Harlequin had
announced
in 2005 that
Dark Horse Comics
would sell its manga in North America, although it
took
the North America distribution of its titles in-house the following year.
Sony
's online
CONNECT
store has been
selling
Harlequin manga in English for the proprietary Sony Portable Reader device since 2006. Three titles are still available on the CONNECT store, but Dark Horse released its last Harlequin manga in May of 2006. Harlequin and SoftBank Creative
announced
last March that they will offer Harlequins manga online in Japan Yahoo! Comic Japan and other computer and mobile phone websites.
---