News

Tsukihime Manga Finale, Volleyboys Manga Put on Hold

posted on by Egan Loo
Last
Tsukihime
book slated for summer; Volleyboys creator cites cancer treatment
---

The finale of Sasakishonen's manga version of the Tsukihime horror visual novel software was not published in the March issue of ASCII Media Works' Monthly Comic Dengeki Daioh magazine on Wednesday, as it was previously scheduled. ASCII Media Works has posted notes of apology from Sasakishonen and Comic Dengeki Daioh's editorial staff on its website.
Sasakishonen apologized to his readers for not submitting the final installment of the Tsukihime manga in time. He is currently retouching the artwork in the seventh and eight compiled book volumes of the manga. According to Comic Dengeki Daioh's staff, those books will ship on February 26 and March 27, respectively. The ninth book volume, which will include the final manga installment, is tentatively slated for this summer. ASCII Media Works will announce more details about the final manga installment in Comic Dengeki Daioh and the official Daioh website.
DrMaster published the first six volumes of the manga in North America from 2005 to 2009. Geneon released the anime adaptation of the visual novel from 2004 to 2005, and Sentai Filmworks reissued the complete collection on DVD last year.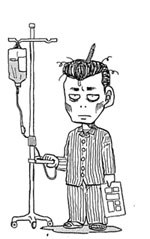 Manga creator Hiroyuki Murata published a three-page story called "Kyūsai Owabi" (Apology for My Hiatus) in this year's eighth issue of Kodansha's Weekly Young Magazine on Monday to explain the absence of his Kōshokuaika Moto Volleyboys sports comedy from the magazine. In the "Kyūsai Owabi" manga, which is also posted on Kodansha's website, Murata explains that he has been undergoing cancer treatment since last October, when a polyp in his large intestine was diagnosed as cancerous. He has since undergone a six-hour surgery at the end of last year, and he is now recuperating at home.
Kogyoaika Moto Volleyboys has been on hiatus since December 8 of last year, and the magazine had initially cited "recuperation from an illness" as the reason. Despite his treatments, Murata was able to draw the "Kyūsai Owabi" manga in the hospital. He plans to return to Volleyboys in early February. Kogyoaika Moto Volleyboys is actually a sequel to Kogyoaika Volleyboys, a high school comedy about the three idiotic boys who start a second volleyball team at their school in a misguided attempt to be popular. The manga has already been adapted into a 1997 anime video, a three-part 2006 live-action drama video series, and a 2008 live-action film.
Source: Temple Knights, Livedoor News
---