News

Wish Angel: Tsubasa wa Chiisai Keredo Project Revealed

posted on by Egan Loo
---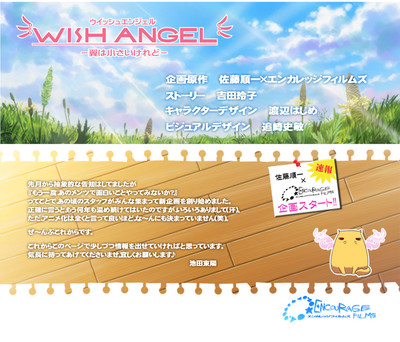 Encourage Films has announced the title of the new project that it is planning with director Junichi Sato (Sailor Moon, Kaleido Star, Sgt. Frog, Aria): Wish Angel ~Tsubasa wa Chiisai Keredo~ (Wish Angel: My Wings Are Small But…).
Encourage Films had previously produced the animation for the Ontama! net anime, but the new project's announcement has specifically not said whether this project will take the form of animation. Producer and Encourage Films founder Touyou Ikeda (Romeo × Juliet, Kaleido Star) states on the project's website that "it would be really nice to say that this will be animated, but nothing's been decided (laughs)."
The project reunites Sato and Ikeda with three other Kaleido Star creators: story creator Reiko Yoshida (Bakuman., K-ON!, Sugar Sugar Rune), character designer Hajime Watanabe (Akazukin Cha Cha, Kodocha, School Rumble), and visual designer Fumitoshi Oizaki (Sgt. Frog, Welcome to the NHK).
Source: Saishin Anime Jōhō
---