News

Otakon to Host Rainbow's Koujina, Madhouse's Maruyama

posted on by Gia Manry
---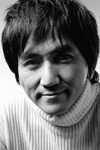 Baltimore-based anime convention Otakon has announced that Hiroshi Koujina, the animator currently directing the Rainbow - Nisha Rokubō no Shichinin television anime series, will be a guest of honor at the convention's July 30-August 1 event. Koujina has also directed 2004's Grenadier, 2006's Kiba, and 2007's Majin Tantei Nōgami Neuro.

Otakon has also announced that Madhouse Studio founder and producer Masao Maruyama will attend Otakon 2010 as a returning guest.

The musical artist kanon, bassist for the visual kei band An Café and producer of the mobile phone game Pinky Distortion, is attending the convention as a guest, and he will perform as a guest DJ during the convention's rave events.
Otakon 2010 will take place at the Baltimore Convention Center. Previously-announced guests include X Japan members YOSHIKI and Sugizo, pop culture diplomat TAKAMASA Sakurai, hip-hop group Home Made Kazoku, and traditional musicians The Yoshida Brothers.
---