News

Precure All-Stars DX3 Anime Film to Open Next March

posted on by Egan Loo
3rd
Precure
film to unite the casts of all previous Precure magical girl TV series
---
The Japanese studio Toei Animation confirmed that the Eiga Precure All-Stars DX3 Mirai ni Todoke! Sekai o Tsunagu Niji-Iro no Hana (Precure All-Stars DX3: Deliver the Future! The Rainbow-Colored Flower That Connects the World) film will open on March 19, 2011. The confirmation came in a presentation (PDF) of its financial results for the first half of the March 2011 fiscal year (April-September 2010).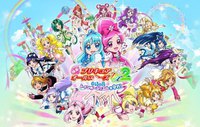 The two previous Precure All-Stars DX magical girl films (pictured at right) opened in March of 2009 and 2010. Both of the earlier Precure All-Stars DX films bridged all the Pretty Cure (Precure) television series to date by combining their casts together. This fall's Precure film, Heartcatch Precure! Hana no To de Fashion Show... desuka!?, is opening on Saturday, and Precure films have often included a preview of the next film.
Toei Animation also noted that it is still working on the film version of Masayuki Kawaguchi's Niji-Iro Hotaru ~Eien no Natsu Yasumi~ novel and the computer-animated versions of the classic science-fiction anime Gaiking and Space Pirate Captain Harlock.
Image © 2010 Precure All Stars DX Movie Production Committee 
---