×
remind me tomorrow
remind me next week
never remind me
Subscribe to the ANN Newsletter • Wake up every Sunday to a curated list of ANN's most interesting posts of the week.
read more
News

Japanese Box Office, June 4-5

posted on by Egan Loo
---

The live-action film adaptation of Ai Yazawa's Paradise Kiss manga opened at #2 with the equivalent of US$2,521,947 on 303 screens. The story follows a high school student named Yukari Hayasaka who is transformed into a fashion model after meeting a group of up-and-coming fashion school students.

The live-action film adaptation of Natsumi Iwasaki's Moshi Kōkō Yakyū no Joshi Manager ga Drucker no "Management" o Yondara novel also opened at #3 on Kogyo Tsushinsha's box office chart, but it opened at #4 on Box Office Mojo's chart. It earned US$2,232,675 on 320 screens. In the original novel, a high school girl uses Peter Drucker's classic productivity guide Management: Tasks, Responsibilities, Practices to rally her dispirited baseball team.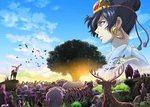 Tezuka Osamu no Buddha - Akai Sabaku yo! Utsukushiku, the first of an anime film trilogy based on Osamu Tezuka's Buddha manga, dropped from #3 to #6 on in its second weekend on Kogyo Tsushinsha's chart. Released by Toei in conjunction with Warner Brothers, the film dropped from #4 to #6 on Box Office Mojo's chart on 279 screens. It added US$915,703 to its total of US$3,691,071.

The live-action adaptation of Shinichi Ishizuka's mountaineering manga Gaku - Minna no Yama (Peak - The Rescuers) dropped from #5 to #8 in its fifth weekend. According to Box Office Mojo, it dropped to #9 but added US$610,563 on 316 screens, taking its gross to US$17,564,122.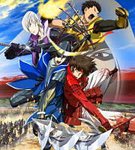 Sengoku Basara - The Last Party, the anime filmed based on CAPCOM's videogame franchise and television anime series, opened at #9 on Kogyo Tsushinsha's chart and at #8 on Box Office Mojo's chart. It earned US$647,331 on 22 screens.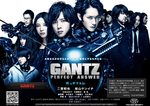 Gantz: Perfect Answer, the second live-action film based on Hiroya Oku's Gantz manga, fell from #8 to #10 on Kogyo Tsushinsha's chart. According to Box Office Mojo, it fell from #7 to #10 and added US$338,834 on 315 screens for a seven-week total of US$33,378,866.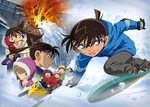 Detective Conan: Quarter of Silence, the 15th anime film based on Gosho Aoyama's Detective Conan manga, dropped from #8 to #11 in its eighth weekend. It added US$252,858 on 300 screens for a total of US$38,010,276.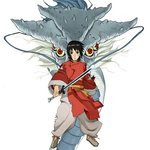 Onigamiden (Legend of the Millennium Dragon), Hirotsugu Kawasaki and Studio Pierrot 's film adaptation of a historical novel by Takafumi Takada, slipped from #19 to #20, adding US$384 on two screens for a six-week total of US$999,654.
Eiga Crayon Shin-chan: Arashi o Yobu Ōgon no Spy Daisakusen is no longer listed on either chart. The #1 spot is still taken by the new Pirates of the Carribbean film, Pirates of the Caribbean: On Stranger Tides, in its third weekend.
Sources: Kogyo Tsushinsha, Box Office Mojo
---
This article has a follow-up:
Japanese Box Office, June 11-12
(2011-06-16 21:00)
follow-up of
Japanese Box Office, May 28-29