News

Japanese Box Office, June 11-12

posted on by Egan Loo
---

Gokaiger Goseiger Super Sentai 199-Hero Daikessen, the film that features all 199 heroes/rangers from the 35-year history of Super Sentai, opened at #2. It made the equivalent of US$3,565,291 on 282 screens. Super Sentai is the Toei franchise that inspired the Power Rangers. The film was slated to open on May 21, but its production was delayed due to the March 11 earthquake and tsunami.

The live-action film adaptation of Ai Yazawa's Paradise Kiss manga dropped from #2 to #3 in its second weekend. It made US$2,277,509 more on 303 screens for a new total of US$7,220,998. The story follows a high school student named Yukari Hayasaka who is transformed into a fashion model after meeting a group of up-and-coming fashion school students.

The live-action film adaptation of Natsumi Iwasaki's Moshi Kōkō Yakyū no Joshi Manager ga Drucker no Management o Yondara novel fell from #3 to #5 in its second weekend on Kogyo Tsushinsha's box office chart. It also fell from #4 to #5 on Box Office Mojo's chart. It earned US$1,827,022 on 320 screens for a gross-to-date of US$5,491,944. In the original novel, a high school girl uses Peter Drucker's classic productivity guide Management: Tasks, Responsibilities, Practices to rally her dispirited baseball team.
The live-action film adaptation of Takashi Murakami's Hoshi Mamoru Inu manga opened at #6 with US$1,779,896 on 317 screens. The story follows the final journey that a middle-aged man (Tsuri Baka Nisshi's Toshiyuki Nishida) makes to Hokkaido with his faithful canine companion.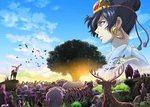 Tezuka Osamu no Buddha -Akai Sabaku yo! Utsukushiku, the first of an anime film trilogy based on Osamu Tezuka's Buddha manga, dropped from #6 to #10 on in its third weekend. Released by Toei in conjunction with Warner Brothers, the film added US$605,040 on 279 screens for a total of US$4,951,389.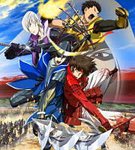 Sengoku Basara - The Last Party, the anime filmed based on CAPCOM's videogame franchise and television anime series, dropped from #8 to #13 in its second weekend. It earned US$379,708 on 22 screens for a new total of US$1,329,308.

The live-action adaptation of Shinichi Ishizuka's mountaineering manga Gaku - Minna no Yama (Peak - The Rescuers) dropped from #9 to #15 in its fifth weekend. It added US$311,449 on 316 screens, taking its gross to US$18,536,792.
Gantz: Perfect Answer, Detective Conan: Quarter of Silence, and Onigamiden (Legend of the Millennium Dragon) are no longer listed on either chart. The #1 spot is still held by the new Pirates of the Carribbean film, Pirates of the Caribbean: On Stranger Tides, in its fourth weekend.
Sources: Kogyo Tsushinsha, Box Office Mojo
---
This article has a follow-up:
Japanese Box Office, June 18-19
(2011-06-23 20:15)
follow-up of
Japanese Box Office, June 4-5