News

Twitch Site: Twilight's Kirsten Stewart Offered Akira's Kei Role (Updated)

posted on by Egan Loo
Entertainment news site: actress offered lead female role in
Warner Brothers
' live-action film
---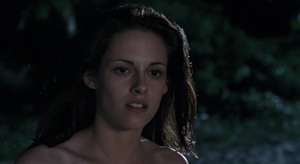 The Twitch website is reporting on Tuesday that actress Kristen Stewart (Twilight, The Runaways, Snow White and the Huntsman) has been offered the lead female role of Kei in Warner Brothers' live-action adaptation of Katsuhiro Otomo's Akira manga. In Warner's film, Kei is described as "a young medium who becomes the love interest for [male co-lead] Kaneda."

The Hollywood Reporter entertainment trade magazine reported earlier this month that Ezra Miller and Alden Ehrenreich are among the top contenders for the pivotal role of Tetsuo in this live-action film adaptation of Katsuhiro Otomo's Akira manga. Garrett Hedlund (Tron: Legacy) is in talks for the other lead role of Kaneda, which The Hollywood Reporter described as Tetsuo's "older brother" in Warner's film. The Twitch website and The Hollywood Reporter previously said that Helena Bonham Carter (The King's Speech), Gary Oldman (Dark Knight trilogy), and Keira Knightley (Pirates of the Caribbean films) have all been approached for roles.
The Actors Access website for acting employment opportunities posted casting calls for the characters Yamagata, Tetsuo, and Ky in September and October.
Update: More background information and images added.
Update 2: The Hollywood Reporter trade magzine's Heat Vision blog reports that the role is named Ky Reed, "a woman who is part of an underground movement to expose the government for turning orphans into living weapons. She may also possess some abilities herself."
---