News

Gokujyo's 1st Episode to Be Streamed on January 30

posted on by Egan Loo
"Circumstances" cited for cancelled airing; creator indicates she was unaware of change
---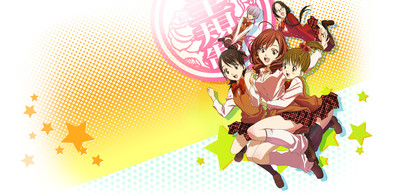 On Tuesday, the official website for the Gokujyo—. ~Gokurakuin Joshi Kōryō Monogatari~ anime series posted an apology for the cancelled airing of the first anime episode the day before. The website also confirmed that the DMM.com website will still stream the first Gokujyo anime episode for free for a limited time, starting on January 30.
DMM.com already streams the SKE48 no Sekai Seifuku Joshi program which hosts the Gokujyo shorts. While neither the Gokujyo staff nor DMM.com have announced whether the Gokujyo episodes will be available outside Japan, DMM.com's streams of recent SKE48 no Sekai Seifuku Joshi episodes can be viewed outside Japan for free, without registration, on smartphones.
The online apology cited "various circumstances" as the reason the first Gokujyo episode's airing was cancelled out of "self-restraint." Instead of the episode, the Chukyo TV station had aired a tongue-in-cheek "roundabout apology and explanation" from the station's "program censorship office" that compared the situation to a snake in the wild.
Maya Miyazaki, the creator of the original manga that the anime adapts, indicated on her Twitter account that she was not notified that the episode would not be aired.
In the first episode, the high school student Aya (Yōko Hikasa) had forgotten to wear her panties. So, she lures another girl named Konatsu (Natsumi Takamori) into the nurse's office to forcibly take Konatsu's panties.
[Via 0takomu]
Image © Maya Miyazaki/Cammot
---
follow-up of
Gokujyo Anime's 1st Episode Broadcast Cancelled