×
remind me tomorrow
remind me next week
never remind me
ANNual Pumpkin Carving Contest 2020 w/ Ciarán Strange! • It's a match made in Halloween! Voice actor Ciaran Strange is joining our Spooktacular Pumpkin Carving Contest as a guest judge! Click to find out how YOU can win over US$1,000 in anime!
read more
News

Hanabee New Acquisitions at Brisbane Supanova 2012

posted on by Jon Hayward
---

©2001 Hitoshi Tomizawa, Akita Shoten/"Alien 9" Committee.
Alien Nine
Alien Nine takes place in a world where aliens commonly land on school grounds and the task of ensuring the school is kept safe for the students is given to the "Alien Party", a group of schoolgirls who are elected by their peers for the duty. Yuri Otani is one such student who upon arriving in sixth grade is elected to the team and forced to join with a synthetic life-form called a "Borg" who keeps her safe and helps to incapacitate the alien life-forms. Yuri is joined by Kasumi Tonime and Kumi Kawamura who use their ingenuity, the borgs and sporting equipment to try and keep their school safe and themselves alive.
This four part special is based off a manga by Hitoshi Tomizawa by the same name and was originally aired in Japan on AT-X in 2001. The title then received a US release by Central Park Media of both the Manga and the Anime but this has since fell out of print due to CPM's bankruptcy in 2009. It has never received an Australian release. The series was produced by J.C Staff and due to Alien Nine being a four episode special it had multiple staff working on different episodes. Yasuhiro Irie (Fullmetal Alchemist: Brotherhood, Kurau: Phantom Memory (TV)) directed episodes 2-4 and wore multiple hats as both character designer, storyboarding and was the animation director alongside Junichi Higashi (Cowboy Bebop, RahXephon). Episodes 2 & 4's screenplay was written by Seishi Minakami (Bakuman, Paprika, Paranoia Agent) while episodes 1 & 3 were written by Sadayuki Murai (Bubblegum Crisis: Tokyo 2040, Millennium Actress (movie), Steamboy (movie)).
There is currently no information when the DVD will be released or if it will come alongside a reprint of the Alien Nine manga.

Bakemonogatari
Bakemonogatari is based on the Japanese light novel series of the same name written by Nisio Isin (NisiOisin is his pen name, also responsible for writing Medaka Box) and illustrated by VOfan. The series follows Koyomi Araragi, a high-school student who survived a vampire attack and became human again with the assistance of a homeless man, Meme Oshino. Now Koyomi keeps on stumbling across others with similar supernatural afflictions and tries to help as he emphasizes with their situations. Each story arc follows Koyomi helping a different girl, the first being classmate Hitagi Senjōgahara who literally falls into Koyomi's lap and he immediately discovers that Hitagi breaks the laws of physics by weighing next to nothing.
The series runs for 15 episodes and was produced by studio SHAFT in 2009. Directed by Akiyuki Shinbo (Puella Magi Madoka Magica, Zan Sayonara Zetsubō Sensei) with Akio Watanbe working on character design and chief animation director. Series composition was handled by Fuyashi Tou (Zoku Sayonara Zetsubō Sensei) with scripts by Muneo Nakamoto and Yukito Kizawa. Voice actors include Hiroshi Kamiya as Koyomi Araragi, Chiwa Saito as Hitagi Senjougahara and Takahiro Sakurai as Meme Oshino.
Hanabee has not confirmed when the title will be released and if the series will be released on BluRay.
---
Arakawa under the Bridge × Bridge (TV) and ef: a tale of melodies were previously confirmed back in August during Hanabee's last round of acquisition announcements at Manifest. Hanabee announced at Supanova Brisbane that they will be releasing ef: a tale of memories and ef: a tale of melodies on BluRay. No release dates for either ef or Arakawa are known at this time. Here is the summary for both series;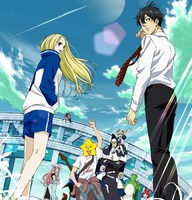 Arakawa Under the Bridge
Arakawa Under the Bridge is based on the manga series created by Hikaru Nakamura. Set in Arakawa, Tokyo it revolves around Kou Ichinomiya who has accomplished everything by himself due to his father's creed; never be in debt to anyone. One day he falls into the Arakawa River and almost drowns but his life is saved by a homeless girl named Nino. As a result, Kou owes Nino his life and in order to pay her back, Kou promises to be her boyfriend. And thus begins his new life under the bridge. Kou Ichinomiya is voiced by Hiroshi Kamiya (Mephisto Pheles in Blue Exorcist, Yuzuru Otonashi in Angel Beats) and Maaya Sakamoto as Nino (Mari in Evangelion: 2.0 You Can (Not) Advance, Rip van Winkle in Hellsing Ultimate).
The anime adaptation was produced by studio SHAFT with series direction by Yukihiro Mitamoto (Puella Magi Madoka Magica, Zoku Sayonara Zetsubō Sensei), direction by Akiyuki Shinbo (Bakemonogatari, Puella Magi Madoka Magica). Art direction was handled by Kohji Azuma (Baka and Test - Summon the Beasts, Dance in the Vampire Bund) and character design by Nobuhiro Sugiyama (ef: a tale of melodies). The series originally aired 13 episodes in 2010 and it's sequel, Arakawa under the Bridge × Bridge (TV) aired for 13 episodes later in 2010.

ef: a tale of memories / ef: a tale of melodies
ef: a tale of memories and ef: a tale of melodies are an anime adaptation of popular Japanese visual novel ef: A Fairy Tale of the Two (consisting of ef: The First Tale and ef: The Latter Tale) published by Minori. The adaptation follows three protagonists as they interact with various girls and eventually fall in love.
ef: a tale of memories adapts the first part of ef: A Fairy Tale of the Two (ef: The First Tale) and follows three main characters. Renji Asō (Motoki Takagi / Clint Bickham) meets a girl named Chihiro Shindō (Natsumi Yanase / Monica Rial) who suffers from a form of amnesia where her memory only lasts 13 hours. Chihiro's condition makes her dream of writing a novel difficult but Renji decides to help her fufil her dream. When Hiro Hirono (Hiro Shimono / Greg Ayres) crashes into Miyako Miyamura (Hiroko Taguchi / Luci Christian) they discover that Miyako attends Hiro's school and they start hanging out together. This makes Hiro's childhood friend, Kei Shindō (Junko Okada / Brittney Karbowski), feel left out so she starts to compete with Miyako for Hiro's affection. Kyosuke Tsutsumi (Hiro Shimono / Chris Patton) goes through some life changing decisions after he takes a photo Kei running down a street. He doesn't recognise Kei but he decides to pursue her all the same.
ef: a tale of melodies adapts ef: The Latter Tale and follows two stories, one set in the past, the other in the present. The first story focuses on Yū Himura (Kouichi Toochika / David Matranga) as he meets Yūko Amamiya (Yumiko Nakajima / Carli Mosier) who seems to know him from his past, but he cannot remember her. Yūko soon reveals that they knew each other when they were far younger and that Yu was Yūko's first love. The second story focuses on Shūichi Kuze (Kenji Hamada / Illich Guardiola) and Mizuki Hayama (Mai Goto / Hilary Haag). Mizuki is the cousin of Renji Asō and living with him while he studies for exams. Mizuji is introduced to Kuze and they spend a lot of time together. However what Kuze isn't telling Mizuki is that he has a fatal illness and does not have long to live. When Kuze decides to break off the relationship, Mizuki tells him that she loves him.
The series was directed by Shin Ōnuma (Baka and Test - Summon the Beasts, C³) and produced by studio SHAFT with screenplay and series composition by Katsuhiko Takayama (Baka and Test - Summon the Beasts, Majikoi - Oh! Samurai Girls). Character design was handled by Nobuhiro Sugiyama (Arakawa Under the Bridge) from original designs by 2C=Galore and Naru Nanao (Sola, D.C. ~Da Capo~). Ef: a tale of memories was originally broadcast in 2007 and runs for 12 episodes. ef: a tale of melodies is of 2008 vintage and runs for another 12 episodes.
---
If you were unable to attend Supanova Brisbane, you can view Hanabee's announcement on Facebook .
---